Open call to join our Board of Trustees
Are you inspired by the Museum of the Home's vision to reveal and rethink the ways we live, in order to live better together? Are you passionate about the cultural sector and its ability to make a difference? Apply to join our Board of Trustees.
About you
The Museum of the Home wishes to appoint two new Trustees who can drive forward the ongoing transformation of the Museum into a truly diverse organisation and the place to explore and debate the meaning of home.
The Museum is committed to ensuring its trustee appointments are diverse and benefit from a broad range of skills and perspectives, so that the Board of the Museum of the Home is representative of the people it serves.
The Museum encourages applications from those whose experiences and perspectives are currently under-represented on the Board and in the Museum sector.
We particularly welcome applications from those who have experience in, or appreciation of, one or more of the following areas:
Biodiversity and urban planting
Buildings and estates masterplanning
Digital Development
Education: schools
Environmental sustainability
Fundraising: corporate and individual giving
Museum leadership
Applications are also very welcome from those with no prior board experience.
We hope you'll feel inspired to get involved!
Read more
Our Vision
We exist to:
Reveal and rethink the ways we live in order to live better together.  
We are:
A place to explore and debate the meaning of home – past present and future - using collections, content and programming to spark ideas and conversation. Working in partnership to be a force for change on issues affecting the ways we live.
Our values
We work in ways which are:
Bold. Be brave in trying new things, taking action and fighting for change on issues affecting the ways we live.
Kind. Be friendly, generous and considerate in all our actions.
Eco-Active. Embed climate action in all decision-making and encourage visitors to make eco-minded choices at home.
Equitable. Act transparently, ethically, inclusively – and allocate resources, time and care equitably.
About the Museum of the Home
History. The Museum of the Home is in Hoxton, long an area of diverse and shifting communities. It opened in 1914 as a museum of furniture and woodwork and over the last 120 years has become more focused on domestic life. The museum is located in almshouses built in 1714 with a bequest from Sir Robert Geffrye, a merchant who made some of his money from investments in the international trade in enslaved Africans. We are now reassessing this legacy through our programmes and creative partnerships.
Transformation. We re-opened as the Museum of the Home in June 2021, following an £18.1 million redevelopment with new galleries, learning spaces, a café, entrance hub and a collections study room. Together with our visitors, we reveal diverse, thought-provoking and personal stories of home through collections, exhibitions, events, performance and debate.
Working in partnership. We work with international partners and collaborate across the UK to support original research into and responses to the meaning of home, past, present and future.
Communities. We have active programmes with local community groups, including the South and South-East Asian community.
Collections. We have a collection of around 40,000 objects, including our library and archives. Going forward we want to expand and diversify these collections, to represent more experiences of home and home life.
Charitable status. We are an independent charitable company limited by guarantee set up as the Geffrye Museum Trust in 1990, registered charity number 803052, company number 2476642.
Funding. The Department for Culture, Media and Sport (DCMS) sponsors the Trust through grant-in-aid. We supplement this from earned income, donations and sponsorship.
Who we're looking for….
Trustees have the overall legal responsibility for a charity. Your main role will be to provide helpful and objective advice, to champion the work and aims of the charity, and to support the management team.
We would like you to have:
A commitment to our vision and values, and to support our core purpose to be a place to explore and debate the meaning of home.
An ability to think strategically and creatively to help us achieve our vision and to better serve and work in partnership with all our stakeholders.
Good judgement with a willingness to be open, ask challenging questions and help find solutions.
An ability to work collaboratively and as part of a team.
A willingness to learn about the legal duties and responsibilities of trusteeship.
A commitment to the 7 principles of public life: selflessness, integrity, objectivity, accountability, openness, honesty and leadership.
Trustees main duties are to:
Ensure that the Museum fulfils the objectives set out in its governing document (known as the Articles of Association).
Ensure that the Museum complies with all relevant regulations, such as those set out in charity law, company law and employment law.
Be responsible for forward planning, policy-making, agreeing targets and evaluating how well the Museum is doing.
Ensure that resources, including the Museum's finances, are well-managed.
Each trustee brings their own skills, knowledge and experience to help the Board reach sound decisions. This may involve leading discussions, focusing on key issues and providing advice and guidance.
Additional information
Time commitment
The usual term, or length of service, for our trustees is 3 years. Trustees may serve for up to two terms.
We would normally expect trustees to prepare for and take part in 4–5 board meetings per year; each year, one of these is an awayday and lasts for 4–5 hours. Meetings are usually held at the Museum of the Home. Meetings typically last 2 hours with preparation time of 1–2 hours required to read and consider written reports on progress against strategic goals and finances.
The Board has a number of sub-committees which meet 3-5 times per year, with each meeting lasting 1-2 hours.
Trustees are encouraged to support the Museum of the Home through attendance at events or exhibitions, but we recognise that people have different demands on their time.
Payment
The role, as defined by the Charity Commission, is an unpaid voluntary position.
Expenses incurred taking part in Board business, such as travel, caring or support costs, will be reimbursed or met directly by the Museum of the Home.
Access
Many areas of the Museum are fully accessible. However, due to the original building's Grade I listed status, some sections are not accessible to all. Please do get in touch to discuss requirements, both as part of the recruitment process and in relation to the role as trustee.
Benefits
The role provides opportunities for the further development of a wide range of leadership skills.
Board members also gain experience of, and can develop networks in, the heritage and cultural sectors and beyond.
We provide in-house induction for new trustees, which can be tailored to meet individual needs.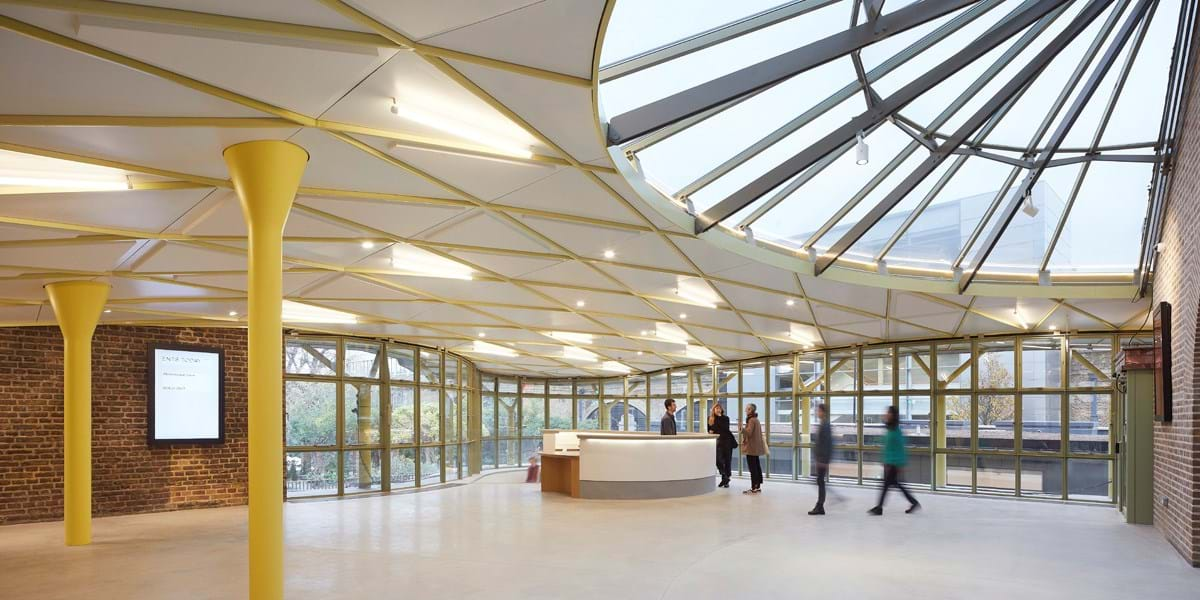 Hufton + Crow
How to apply
A CV and statement of what you can bring to the role will be used to select candidates for interview. 
Your statement can take the form of a written piece (max. 2 sides of A4) or a 4-minute filmed or audio response. 
Your written statement/video/audio response should address how you meet the You will have statements in the About you and Who we're looking for sections of this document.
Please send your CV and written statement or video/audio to Alison Anscomb aanscomb@museumofthehome.org.uk
Closing date: 12:00 midnight on 16 April 2023
Interviews: w/c 24 April 2023
The term of office will begin in July 2023. The first Board meeting will be an Away Day on 18 July 2023.
If you would like to find out more about the role, please contact Alison Anscomb aanscomb@museumofthehome.org.uk
We look forward to receiving your application.
Download full description (.pdf)