Our redevelopment project
We plan to reopen in spring 2021 with a whole load more museum to discover.
We are reviewing the latest government guidance and will announce a reopening date soon.
Expanded buildings and new spaces
The renovation of the original Grade 1 listed almshouses and the development of new spaces, masterminded by Wright & Wright Architects, will create 80% more space for exhibitions, events and collections.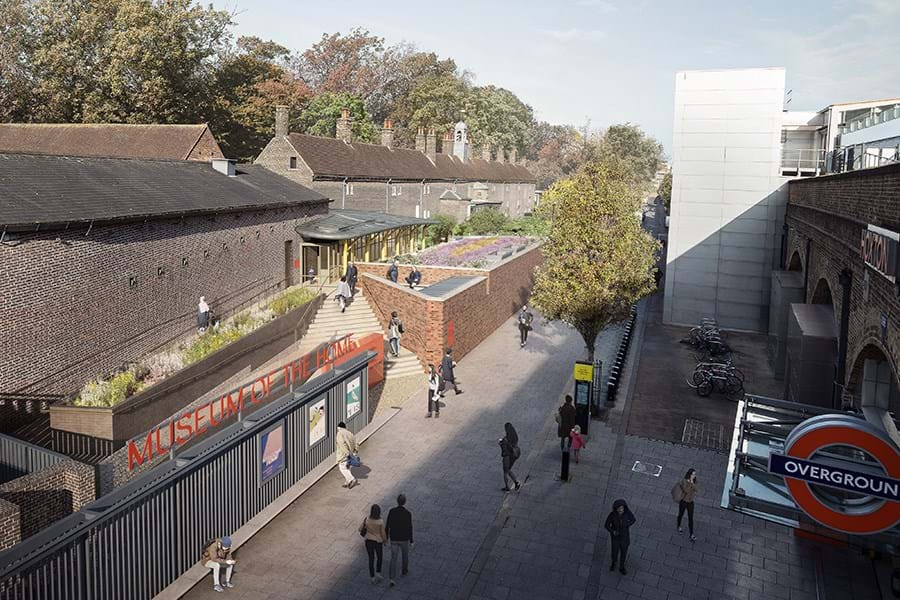 Illustration of the new entrance opposite Hoxton Overground Station. Visual by Secchi Smith, design by Wright & Wright Architects
New Home Galleries
The Home Galleries run the full length of the almshouse building. Here you will be able to explore contemporary and historic stories of home. Lots more of our collections and archives will be on display.
Refreshed Rooms Through Time
Our much-loved period rooms will be reinstated with fresh information, and there will be a new Victorian room scenario.
The Almshouses
Visitors will be able to find out more about the history of the building and the people who lived here, through tours, talks and displays.
Gardens open all year round
Our Gardens Through Time will be open all year round and we're adding a 21st century green roof. Stunning and sustainable, it will highlight the challenges of gardening in climate crisis.
Collections Library and Reading Room
Our library has beautiful high vaulted ceilings and overlooks the front gardens. It will be a great new space for research and study. And on the ground floor there will be an informal reading room.
Spaces for schools, families and learning
We are creating a new pavilion and studio for our award-winning learning programme and activities. These spaces will allow more people of all ages and abilities to participate. A new lunch room will be available for school groups and families.
Better access
You'll be able to enter the Museum via our new entrance directly opposite Hoxton Station. This leads into a spacious reception space with improved facilities. More than twice as much of the building will be open to visitors. All of the new spaces will be wheelchair accessible.
New café
Our new street-facing café with terrace will be on the corner of Geffrye Street and Cremer Street.
---
Funding
The National Lottery Heritage Fund granted £12.3m to support the redevelopment. We are also very grateful to the major donors, trusts and foundations, companies and individuals who have given significant financial support towards the capital campaign.