Workshop
Black Girl Dollshouse Club workshop
Make your own miniature dollshouse-sized version of the drinks cabinet from the 1970s Front Room.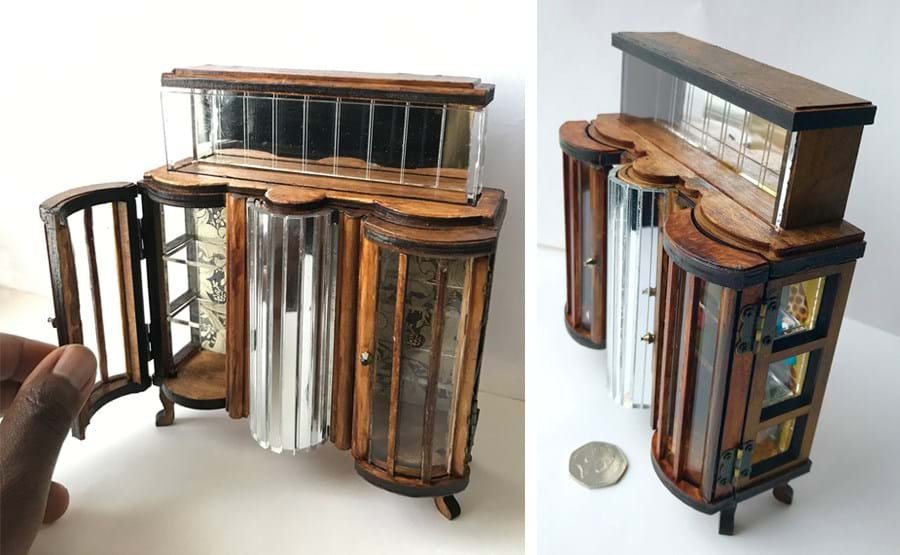 The Drinks Cabinet appears in The 1970s Front Room, curated by artist, curator and playwright Michael McMillan.
This workshop is designed and facilitated by Elizabeth Joseph.
Elizabeth will guide you as you make your own miniature Drinks Cabinet, complete with mirror decoration, hinged doors and two shelves.
All materials are provided: plywood, acrylic, mirror Perspex, wood stain, hinges, card, gift box.
You will be able to personalise your miniature Drinks Cabinet with a collage on the inside back panel. All pictures and collage materials are provided, and you can also bring small flat items (like a feather, piece of fabric, leaf/dried flower or photo) to use in your collage if you wish.
After the workshop there are Caribbean cocktails when Elizabeth will be on hand to chat about the inspiration behind her dollshouse and miniatures projects and why she founded The Black Girl Dollshouse Club (which is open to all).
Listen to her ideas on how to make your own miniatures based on objects with personal heritage and value that you own.
Schedule for the afternoon
12pm
Visit The 1970s Front Room and listen to Michael McMillan discuss his creative process and ask him questions.
12.30pm
Elizabeth will guide you in making your own Drinks Cabinet. You will be painting your cabinet so please don't wear your favourite white silk shirt!
3.15pm
Caribbean cocktails and miniature chitchat 
Date
Saturday 23 October
Time
12 to 4pm
Cost
£45
Location
Georgian Kitchen