Families
Half Term: Welcome Home Friend Chào mừng bạn về nhà
A week of fun activities for all the family celebrating Vietnamese culture and creators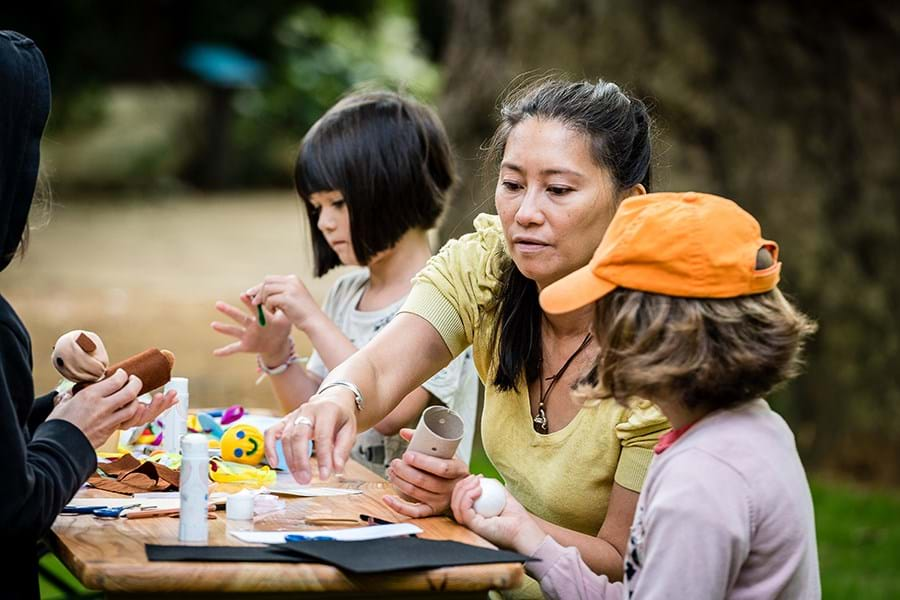 Come join us this February half-term for a week of family activities exploring how we make ourselves and others feel at home.
We've taken inspiration for our theme from a book called The Doll by Nhung N. Tran-Davies. In her book Nhung tells how she received a doll from a stranger when she first arrived in Canada, after fleeing her home in Vietnam, and how welcome that made her feel. Nhung repeated this simple act of kindness years later and gave the doll to another child refugee.
A small act of kindness from a long-ago moment is not forgotten. It ripples outward, beyond our doors over our steps across the seas and welcomes weary travellers home.
Nhung reminds us about the importance of being kind to those making a home in our community.
During the week you can expect beautiful storytelling, artist-led workshops, and family activities celebrating Vietnamese culture and creators.
Một tuần lễ thú vị với những hoạt động dành cho cả gia đình ca ngợi văn hoá cũng như các tác giả của Việt Nam.
Hãy tham gia cùng chúng tôi vào kì nghỉ giữa học kì tháng Hai này với những hoạt động dành cho cả gia đình, khám phá làm thế nào để cho chúng ta cũng như người khác cảm thấy như ở nhà. Chúng tôi lấy cảm hứng từ cuốn sách mang tên "Búp bê" của tác giả Nhung N Trần-Davies. Trong cuốn sách này Nhung kể về khi cô nhận được một con búp bê từ một người lạ khi cô mới bước chân sang Ca Na Đa để tị nạn khỏi Việt Nam, và điều này đã khiến cô cảm thấy mình được đón nhận như thế nào. Nhung cũng lặp lại nghĩa cử cao đẹp đó nhiều năm sau đó khi cô tặng một con búp bê cho một bé gái tị nạn.
Nhung đã nhắc nhở chúng ta về tầm quan trọng của việc đối tốt với người khác khi họ đang xây dựng một mái nhà ở trong cộng đồng của chúng ta.
Trong tuần này, bạn sẽ được thưởng thức tiết mục đọc truyện hấp dẫn, những xưởng sáng tạo dẫn dắt bởi nghệ sỹ, và hoạt động dành cho cả gia đình ca ngợi văn hoá và những tác giả của Việt Nam.
Ngày:
Thứ ba 15, Thứ tư 16, Thứ năm 17, Thứ sáu 18, Thứ bảy 19 tháng hai.
Thời gian:
11 giờ đến 4 giờ chiều
Phí:
Miễn phí nhưng phải có vé. Việc đặt vé sẽ sớm mở.
Địa điểm
Trên toàn bộ bảo tàng
Date
Tuesday 15, Wednesday 16, Thursday 17 and Saturday 19 February
Time
11am to 4pm
Cost
Free, just drop in
Location
Across the Museum site