Book launch
Home-work book launch with CSH
Celebrate the publication of two books based on research completed at the Centre for Studies of Home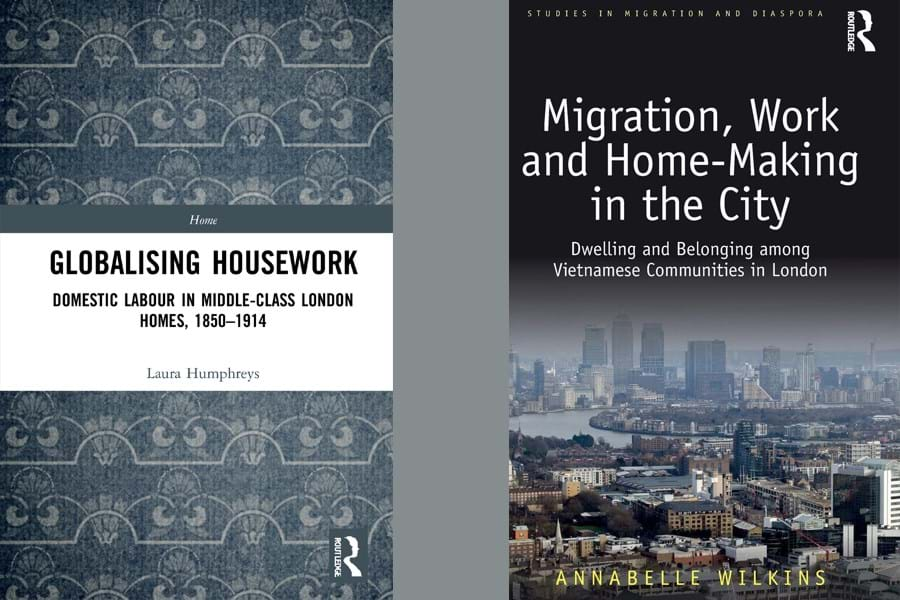 Join us as we celebrate the publication of two books by Dr Laura Humphreys and Dr Annabelle Wilkins.
Both books are based on their research completed at the Centre for Studies of Home on the Arts and Humanities Research Council (AHRC) Home-work Collaborative Doctoral Award programme.
The evening includes a drinks reception, short talks from the authors, and a chance to view material related to both books on display and in the Museum's collections.
---
The Centre for Studies of Home – a partnership between Queen Mary University of London and the Museum of the Home – is celebrating its tenth anniversary year. It exists to deepen and diversify understandings of home.
Collaborator

Laura Humphreys
Laura Humphreys is Curatorial and Collections Engagement Project Manager at the Science Museum Group, UK. She was a project curator at the National Maritime Museum, following completion of a PhD at Queen Mary University of London, in collaboration with the Musuem of the Home.
---
Collaborator

Annabelle Wilkins
Annabelle is a social and cultural geographer with particular interests in migration, home and belonging. She is a researcher on the 'Making it Home' (MaHoMe) project at Kingston University, exploring migrant homemaking in the UK, Denmark and Sweden.  Her research has contributed to displays at the Museum of the Home (2017) and features in the exhibition Refugees: Forced to Flee at the Imperial War Museum (2020-21). She is also a researcher on the project 'Stay home: rethinking the domestic during the COVID-19 pandemic' at Queen Mary University of London. 
---
Date
Tuesday 19 October
Time
6 to 9pm
Cost
Free but ticketed
Location
Studio, galleries and library
The Centre for Studies of Homes major current project, Stay Home Stories, has been taking place at the same time as ongoing protests about the presence of the statue of Sir Robert Geffrye at the Museum.
Read more about the impact of the statue on the project
About the books
Globalising Housework
Domestic Labour in middle-class London homes 1850-1914
ISBN 9780367626679
Published 27 April 2021 by Routledge
234 pages, 23 black and white illustrations
Available from Routledge
Ebook from Taylor and Francis
This book shows how international influences profoundly shaped the 'English' home of Victorian and Edwardian London; homes which, in turn, influenced Britain's (and Britons') place on the world stage. The period between 1850 and 1914 was one of fundamental global change, when London homes were subject to new expanding influences that shaped how residents cleaned, ate, and cared for family. It was also the golden age of domesticity, when the making and maintaining of home expressed people's experience of society, class, race, and politics. Focusing on the everyday toil of housework, the chapters in this volume show the 'English' home as profoundly global conglomeration of people, technology, and things. It examines a broad spectrum of sources, from patents to ice cream makers, and explores domestic histories through original readings and critiques of printed sources, material culture, and visual ephemera.
Migration, Work and Home-making in the City
Dwelling and belonging among Vietnamese communities in London
ISBN 9780367670870
Published 18 December 2020 by Routledge
192 pages
Available from Routledge
Ebook from Taylor and Francis
This book explores the relationships between home, work and migration among Vietnamese people in East London, demonstrating the diversity of home-making practices and forms of belonging in relation to the dwelling, workplace and wider city. Engaging with wider scholarship on transnationalism, urban mobilities and the geopolitical dimensions of home among migrants and diasporic communities, the author draws on ethnographic work to examine the experiences of people who migrated from Vietnam to London at different times and in diverse circumstances, including individuals who arrived as refugees in the 1970s, as well as those who have migrated for work or education in recent years. Migration, Work and Home-Making in the City thus sheds new light on the social, material and spiritual practices through which people create senses of home that connect them with their country of origin, and reveals how home-making is constrained by immigration policies, insecure housing and precarious work, thus highlighting the barriers to belonging in the city.