Our Home Our Stories
Until Sunday 30 January 2022 | Free entry
Reading Room in the Rooms Through Time galleries
A new artist commission by Alaa Alsaraji.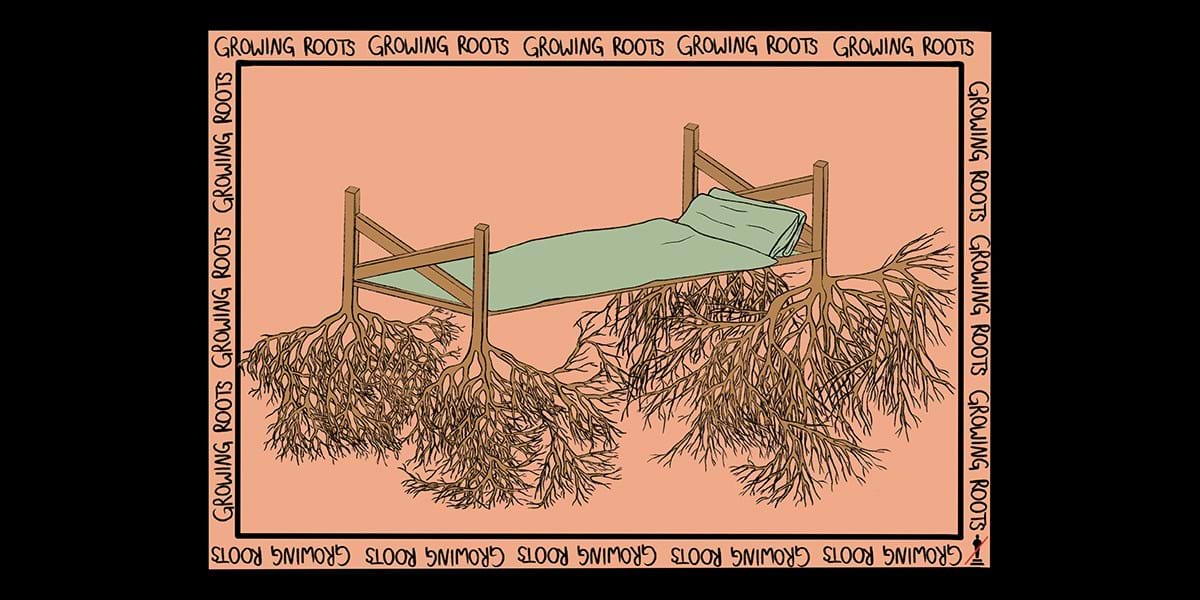 Our Homes Our Stories is a space where you can discover how people's experiences of home has shifted during the coronavirus pandemic and how those experiences can be used to imagine a healthier, more equal understanding of home in the future.
Artist Alaa Alsaraji invites you to debate, share, write, draw and connect within the artwork, to help create an understanding of how we can build compassionate homes together.
Alsaraji weaves people's experiences during the coronavirus pandemic into the fabric of the room to build a picture how the role of homes has changed.
Drawing on the Museum of the Home's Stay Home material artist Alsaraji responds to how the instruction to 'Stay Home' has prompted people to adopt their own rituals of care within lockdowns.
The Stay Home project explores how the pandemic has changed the way we live, and how we think about the future of home life. During these extraordinary times, our homes have never been more important.
Through the installation Alsaraji also addresses the impact of the statue of Robert Geffrye on the building's exterior and encourages conversations around who we celebrate and overlook in society.
The installation is created in collaboration with design collective Resolve, who accentuate the sentiment of the piece using found materials as a product of a shared socio-economic condition.
---
Alaa Alsaraji
Alaa is a London-based visual artist, designer and creative facilitator. Through her creative practice she aims to explore themes such as belonging, reimagining space and community. She also works with various creative and educational organisations and collectives as a facilitator, delivering creative workshops with children and women's groups.
In her work she always seeks to emphasise the value of using creativity as a informative process to address and explore structural issues and their impact on individuals and communities.
Exhibition design by Resolve Collective
RESOLVE is an interdisciplinary design collective that combines architecture, engineering, technology and art to address social challenges. They have delivered numerous projects, workshops, publications, and talks in the UK and across Europe, all of which look toward realising just and equitable visions of change in our built environment.
---
This project is funded by the Arts and Humanities Research Council (AHRC) as part of the UK Research and Innovation rapid response to COVID-19.
In partnership with Queen Mary University London, University of Liverpool, Royal Geographical Society (with IBG), Birkbeck, University of London and National Museums Liverpool.