The Soft Prison
An exhibition in partnership with Artangel.
Opens Friday 1 October | Free entry
The Soft Prison brings together works by ten contemporary artists to explore the landscape of our private space and the home's capacity to contain and sustain us.
It features intimate photographs, documentary, installations and filmed portraits by artists including Rachel Whiteread, Gregor Schneider, Mona Hatoum, Richard Billingham, De'Anne Crooks, Donald Rodney and Clio Barnard.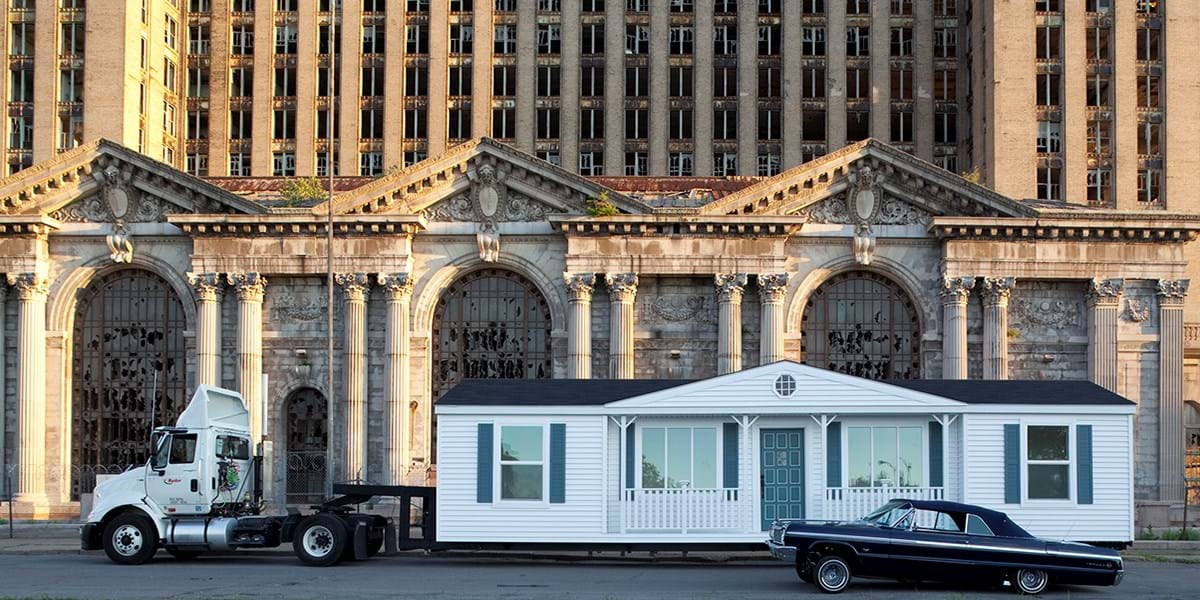 Mike Kelley, Mobile Homestead, 2010-2011
The home, where so many of us have been confined since March 2020, has long been a provocative site for artists to consider the ways in which we live.
Domestic life assumes many configurations, shaped by those we live with or alongside, and the neighbourhoods we occupy. For some, home is a place of tenderness, comfort or refuge. For others, home can be a deadening or constraining space, which gives way to fantasies of escape.
This exhibition contains material of an explicit nature.
Artists in the exhibition
Rachel Whiteread
Documentary film and photographs depict the making of Whiteread's Turner prize winning work House, which was a concrete cast of the interior of the last remaining terraced house on Grove Road in Mile End.
Richard Billingham
The video Fishtank is a natural history-style portrait of a dysfunctional family within the confines of their council flat.
Mona Hatoum
The installation Home subverts the safe environment of a domestic kitchen, traditionally a feminine domain, by running an electrical current through the items on display.
Gregor Schneider
The film titled Die Familie Schneider shows the lives of identical twins in identical interiors in disturbing and claustrophobic detail.
Lucy Gunning
Climbing Around My Room is an 8 minute looped video of a girl clambering determinedly around a room without touching the ground.
Mike Kelley
Going West on Michigan Avenue from Downtown Detroit to Westland and Going East on Michigan Avenue From Westland to Downtown Detroit depict the first road trip of Mike's Mobile Homestead – a facsimile of his childhood home created out of a trailer.
Clio Barnard
The film The Arbor follows the personal journey of Lorraine, the daughter of playwright Andrea Dunbar, as she is introduced to her mother's plays and letters.
De'Anne Crooks
The film Great-ish, The Gaslighting of a Nation is a love letter to an unborn child, engaging with the migrant experience and Britain as a spouse in a would-be toxic relationship.
Donald Rodney
In the House of my Father is a close-up image of Donald Rodney's hand, in which sits a minute sculpture of a house. Rodney made it in hospital while he was recovering from an operation to combat sickle cell anaemia. 
Margaret Salmon
The short film Home, originally shot on 16mm, charts one woman's journey from the mundane to the extraordinary as she cleans her house and cares for her two young children.