Experience
Constantly count my blessings
11/05/2020
I live alone in the bottom two floors of an 1870s house in west London. I am blessed to have both a back and a front garden with seating areas in each. I share my home with my cat Pumpkin and my tortoise Lottie.
My home is normally full of friends and family. Often like a hotel. But not for the past two months.
I have lived and worked here for 30 years.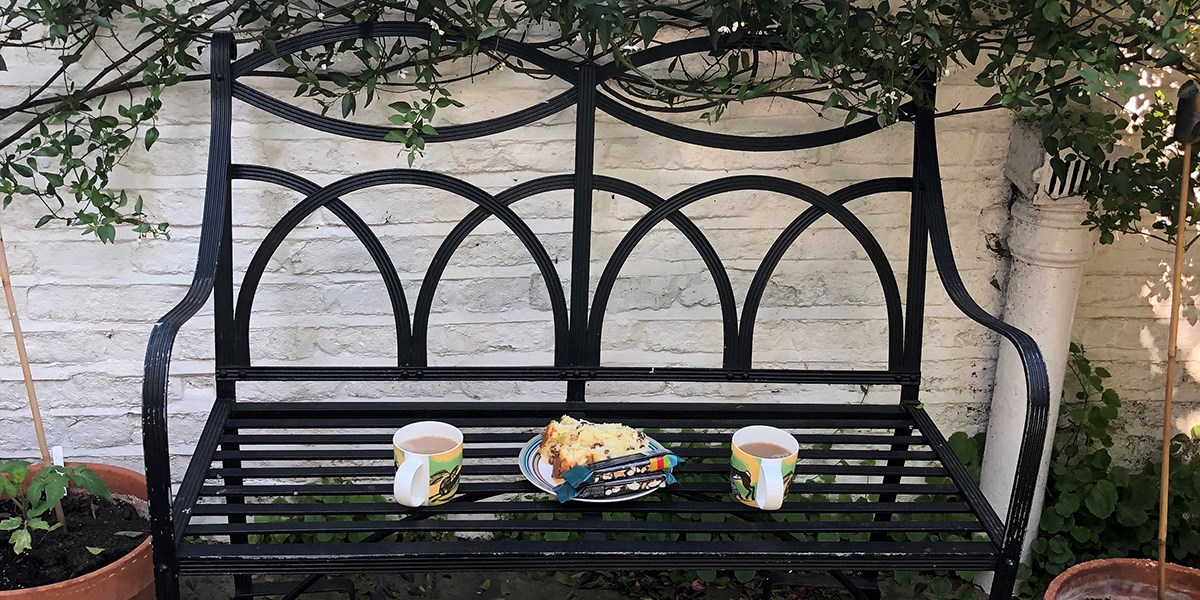 Tea for two. Blessed to have front garden. 
In what ways has the coronavirus pandemic changed the way you use your home?
In many ways because I have always worked from home the pandemic has not changed how I use it. But it has never been so relentlessly occupied as it is now and I feel truly blessed.
I have always had to make my own daily structure and I have continued to do so but in different ways.
How do you feel about your home? How have these feelings changed?
I love my home. It has always been central to my life and my equilibrium and even more so now.
It has also been a home to many others too. Although I have always appreciated having a front garden – not least because I can grow nine pots of tomatoes along the sunny wall – I also have a bench. So with due warning friends in ones or twos can come and call. Their order of tea or coffee, or occasional bubbles, is put on the bench ahead of their arrival and I then sit on the steps three metres away.
We have been blessed by sunshine – but if the weather is less warm, then I am also fortunate to have a communal front hall. My neighbours are away for the duration. Visitors can therefore come and sit in the front hall and I can sit in my hall – again three metres distance. Photographs recreate a Hockney portrait.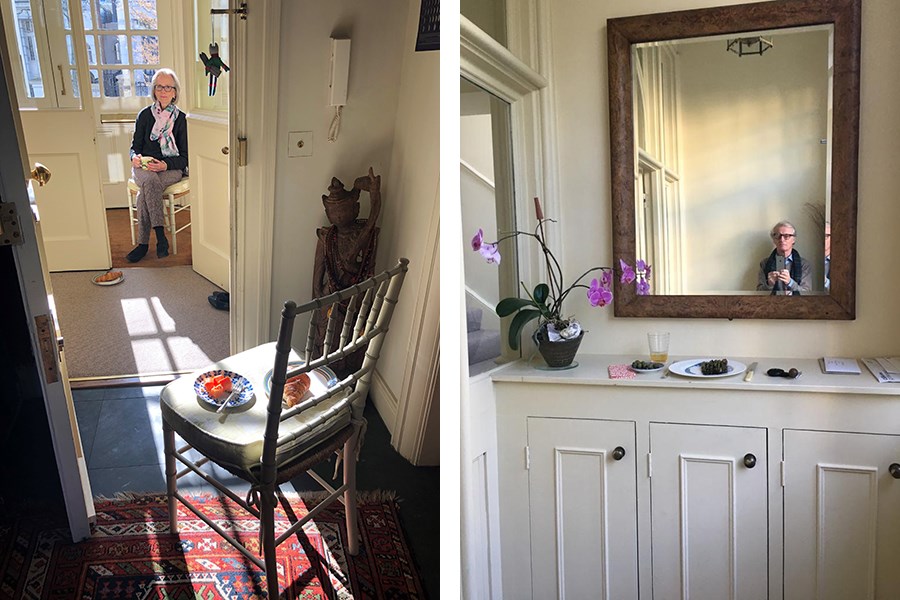 Distance breakfast. Distance supper.
Hockney like.
How does staying at home affect your relationships?
The current situation is a solitary one for me, albeit with plentiful contact from family and friends. The landline has become more used than in the past decade and friends telephone more than in the past. This seems to be a welcome way to communicate for us all.
Friendships have become all the closer during this period. None of us have ever imagined such a situation.
Pumpkin my cat has become very dependent on my continuous company. Not least because Mopti died in February. But not for long. A kitten will soon join us. An essential journey to collect her if ever there was one. And then there will be change in the air – possibly to time with lockdown gradually opening. But my friends and family, who all live abroad, are under no illusion that this will be a long haul.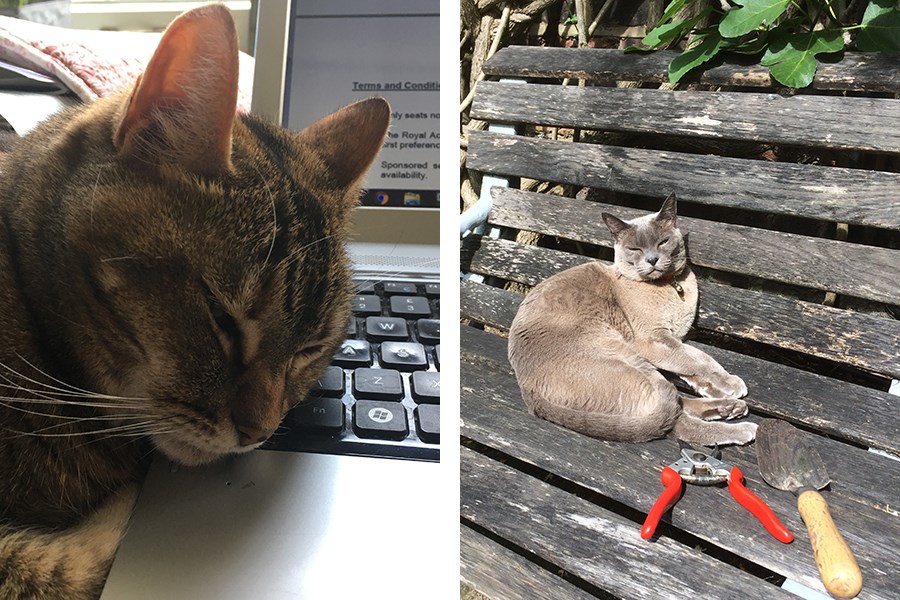 Pumpkin on the keyboard, trying to be oh so helpful. Mopti in the garden. This might look staged…but you cannot stage a cat.  
What do you appreciate most about your home? What do you find frustrating?
I would not change my home for anything. It works well at every level and I constantly count my blessings.
Over the Easter weekend the ambulances coming down the main drag were relentless. There is a big hospital at the bottom of the road. There is a relief now not to hear them and the birdsong seems ever louder.
How has lockdown changed your habits or routines at home?
At the very beginning I set myself a list of projects that I wanted to achieve. Sorting paperwork, photographs, spring cleaning etc. These are all being achieved which is satisfactory.
Tai chi once a week continues but this time by Zoom. The family all meet from Scotland, Norway, France and London once a week on Zoom for a quiz – instigated by me.
And work meetings continue by Microsoft Teams or Zoom in a very satisfactory manner. The organisations with which I am involved as a trustee all need all the support they can get at this time.
Up until this period I have only ever gardened at weekends – often all weekend. But that has changed radically. Not least because of the sunshine. My garden has never been more tended or loved. It is hard not to be sharing it with anyone.
How is your sense of home affected by your neighbours or those living nearby?
Having no-one else in the two flats above me is unusual but helpful in the circumstances.
The digging out of the basement next door has been delayed for yet another year. Perhaps never. That would be a relief!

Most of my neighbours have become more neighbourly. Happy to chat in the street and grateful for bunches of jasmine left on their doorstep.
Share your experience
Take part as we document home life during the coronavirus pandemic
Donate now
Support us to continue vital collecting and programming to explore what home means now
Keep up to date with all the latest from the Museum
Sign up to our monthly enewsletter for news and stories