Experience
Keeping separate from us
28/04/2020
We had spent three years doing a complicated house build and we had only just moved back in when this crisis struck.
We have three levels including a basement where we could have a pool table, an art studio and a cinema room with a sofa bed.
There are 4 of us, myself, my husband and my son aged 10 and my daughter aged 10.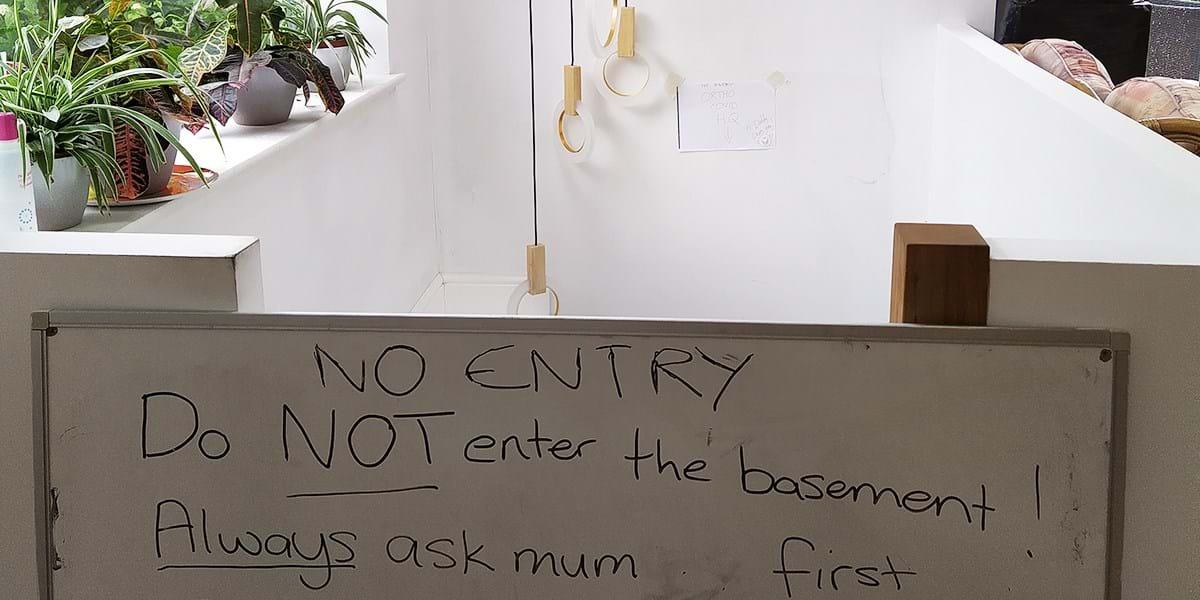 In what ways has the coronavirus pandemic changed the way you use your home?
My husband is an orthopaedic surgeon and the lead trauma surgeon in the local trust. I'm a part time physiotherapist working in a private hospital.
When the covid crisis struck my husband decided to move down to the basement and socially distance himself from the rest of us because I have moderate asthma. His work is extremely dangerous due to the generation of aerosols during operations.
My work treating patients following elective surgery dried up because they cancelled all routine operations. We therefore decided that I would stay at home and supervise the homeschooling as this situation would considerably reduced our risk of getting the virus and passing it on to others.
How do you feel about your home? How have these feelings changed?
I have a mixture of feelings. On the one level I'm grateful we have space and a garden, which is a godsend, but I'm also incredibly sad.
The basement was for the kids' benefit so they could have friends over to play Xbox and pool and at the moment they can't use it.
I'm also sad for my husband who feels a bit lonely and isolated and misses human contact. I also feel sorry for myself on the home front which can be tedious and exhausting and I am a single parent.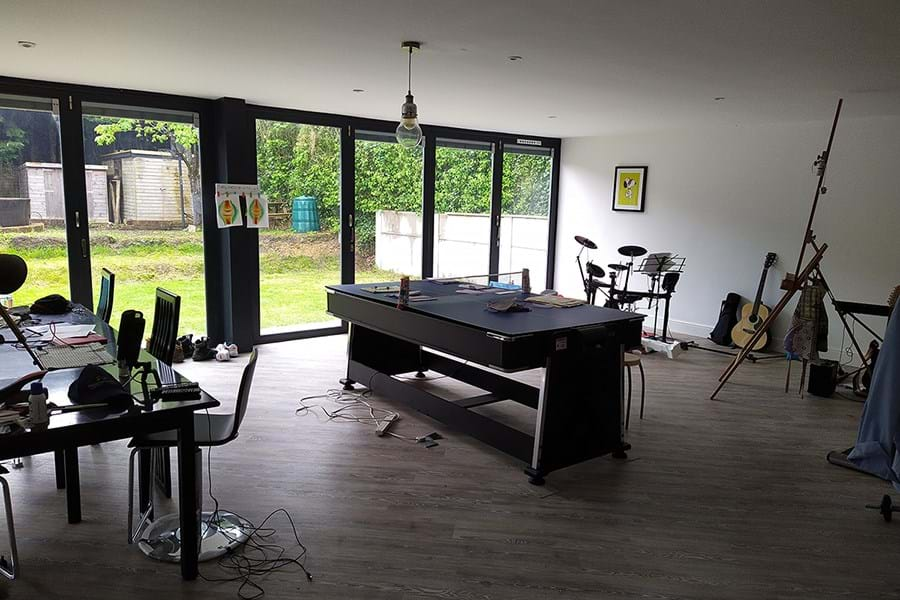 The new basement where the children can't play as my husband lives there and is keeping separate from us
How does staying at home affect your relationships?
The children are competitive and the bickering has been relentless. 
I am grateful we can go out for exercise but I crave my own space and solitude and my husband craves company. This also causes tension between us.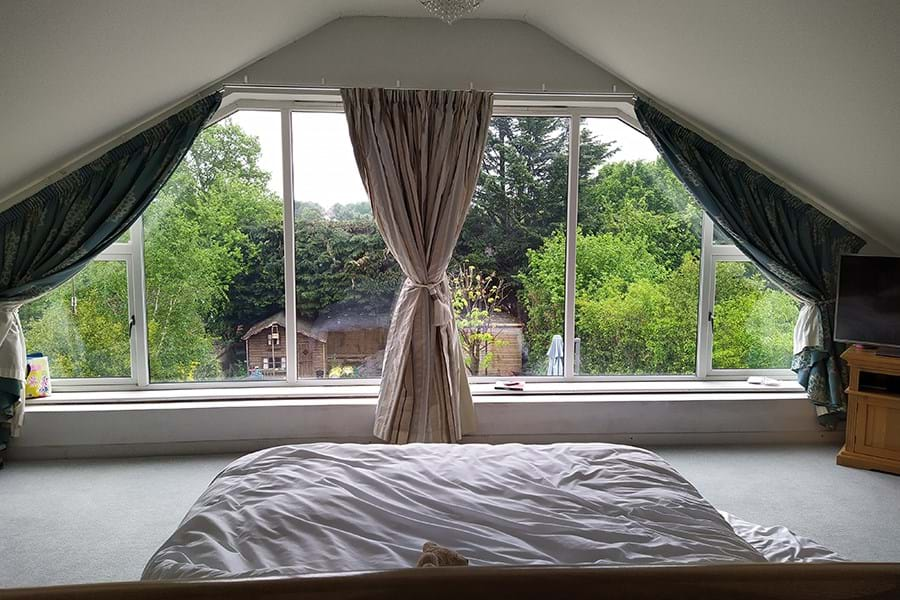 The lovely view from our bedroom, which has become my sanctuary
What do you appreciate most about your home? What do you find frustrating?
I am grateful for my lovely big bedroom which gives me somewhere to hibernate when it all gets too much.
I am grateful for the balcony which gives us the opportunity to be a family on sunny days.
We are in a market town so there is both a neighborhood and countryside, both important for connection and sanity respectively.
My parents live 10 minutes away by foot through a field near a river, so I'm grateful I can see them albeit at a distance and that getting there is pleasant and quiet.
It is frustrating that the children are unable to enjoy the basement, particularly when they have so much free time on their hands. We have lovely neighbours with children of similar age so it's also annoying that the kids can't hang out together.
How has lockdown changed your habits or routines at home?
I have more time as I'm not working although there are constant interruptions from the kids. I've lost my cleaners so I'm cleaning a lot more, which is boring.
Meal planning is a lot more difficult because I have to plan by the week as I'm sharing grocery deliveries with my parents.
I am baking a lot more, both cakes and bread. I am really enjoying this and I don't think I'll ever be able to eat another pizza again unless the base is homemade.
How is your sense of home affected by your neighbours or those living nearby?
We have a great neighborhood.
I am very close to two families living nearby both including NHS staff and children of the same age. We are on a WhatsApp group together and have helped each other out a lot over groceries. One of them orders more milk from the milkman for me every other day, which is a big help. I will definitely use the milkman after lockdown.
Share your experience
Take part as we document home life during the coronavirus pandemic
Donate now
Support us to continue vital collecting and programming to explore what home means now
Keep up to date with all the latest from the Museum
Sign up to our monthly enewsletter for news and stories