Experience
Lots of lucid dreams
01/05/2020
We live in a two bedroom flat on the top (5th) floor of a 1930s social housing block in central London. There are four of us in the family including two kids, age 6 and 8.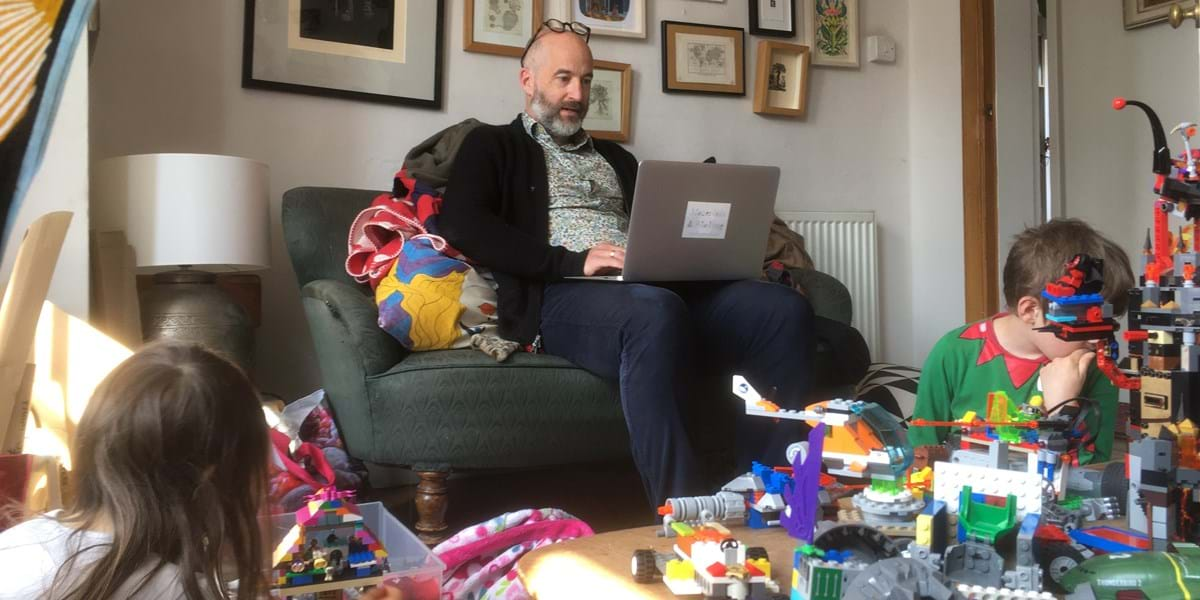 Working amongst the Lego
In what ways has the coronavirus pandemic changed the way you use your home?
Normally my husband goes to work, I go to my studio and the kids are at school. Now we are all here all day. Our school has set very structured work so we spend at least two hours a day doing formal home school with the rest of the day cobbling together creative activities for the kids until we run out of steam and let them watch a film. Husband and I struggling to get enough of our own work done.
How do you feel about your home? How have these feelings changed?
Right now I feel trapped. I'm desperate for the countryside where I was brought up and where my parents live. I suddenly hate all the buildings around us and find the constant building work (more and more towers going up in immediate vicinity) offensive.
I miss the good bits of London, the galleries and museums and big parks which are now inaccessible. However our flat is lovely, feels safe and has just enough room for us all.
How does staying at home affect your relationships?
At the beginning of lockdown, my husband and I made a conscious effort to be kind to each other. We are getting on fine. Possibly better than normal. The kids are loving having more of our time but absorb every scrap of energy. They are irritating but I'm also pleased that they're still sweet little people and know that this is precious time.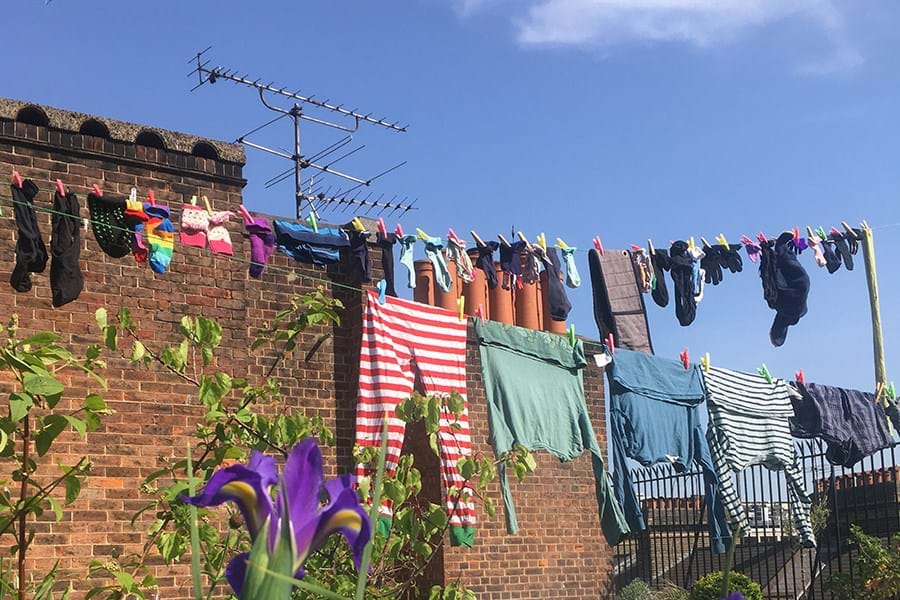 Washing on the roof
What do you appreciate most about your home? What do you find frustrating?
We have access to the roof where we grow lots of plants. This is a gift. The flat is light and has good sized rooms. We recently had some work done on it so it functions and looks nice. However I don't have my own space so am trying to do my artwork in corners and on the kitchen table. I can't leave anything set up. The kids plonk their stuff on my tiny spaces.
How has lockdown changed your habits or routines at home?
I'm doing more cooking. We're all eating together which is lovely and the kids are eating more adventurous things. We have to give ourselves treats so make a lot of cake.
We are drinking more, not excessively but we drink a beer most nights whereas normally we'd have several nights a week of no alcohol.
I'm not sleeping as well, having lots of lucid dreams.
We are sticking to a routine which helps: a short trip outside with the kids at 8.30am, followed by school.
How is your sense of home affected by your neighbours or those living nearby?
The clap for carers is the week's highlight. I always cry. It's so nice to join neighbours in this every week. But there's quite a lot of not observing social distancing on the estate which is a bit worrying. Everyone is very friendly but it's always a friendly estate.
Share your experience
Take part as we document home life during the coronavirus pandemic
Donate now
Support us to continue vital collecting and programming to explore what home means now
Keep up to date with all the latest from the Museum
Sign up to our monthly enewsletter for news and stories