Q & A
Luke Edward Hall
24/11/2020
Luke Edward Hall is an artist, designer and writer based in London and the Cotswolds. He is an Honorary Friend of the Museum of the Home.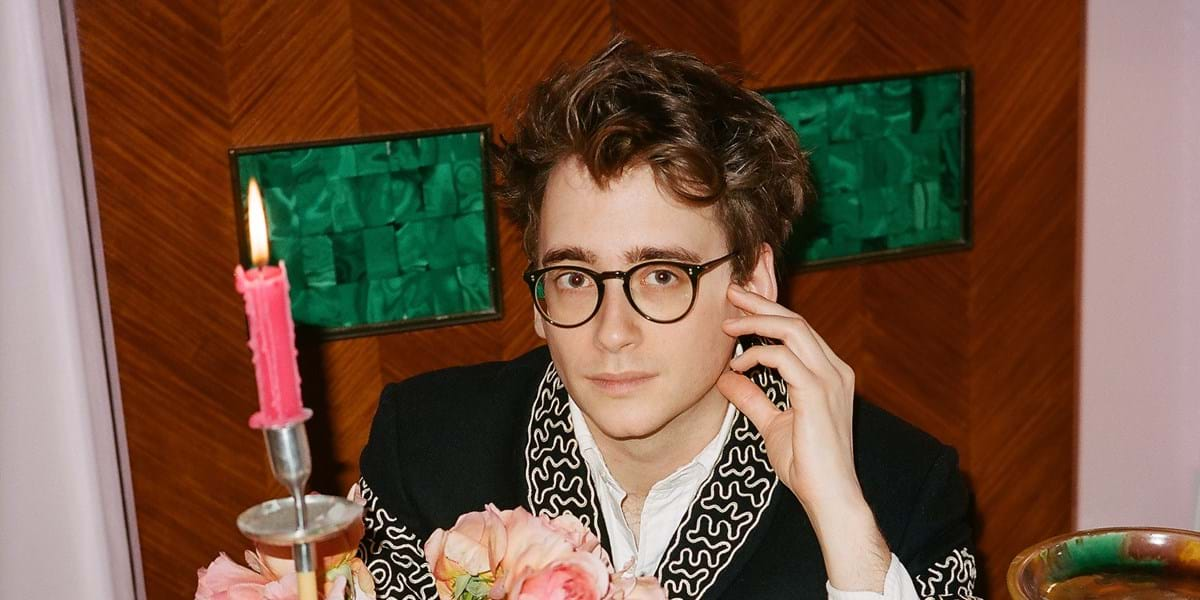 Where is home for you?
Mostly the Cotswolds these days, but also Camden in London.
What's your earliest memory of home?
I remember the bedroom I had as a young child quite well – the wallpaper most of all, which spelt out the alphabet. I moved between my home and grandparents' and aunts' houses quite a lot, and I can remember them all well. Funny things stick in my memory, like biscuit tins and curtain fabrics.
What one thing would you bring with you if you had to move today and why?
Our whippet, Merlin. In terms of possessions, perhaps my small collection of drawings, photographs and prints. I'm not sure I'd be able to replace many of these.
What's your getting home ritual?
At the end of a long day I'll spend an hour or so cooking with my partner Duncan, which always helps us to relax. Then a long bath.
How do you make people feel welcome in your home?
We love to have people over. I love the preparation that goes into it: cooking, mixing drinks, lighting candles, organising music... Lighting is key, I think. Lots of warm light from table lamps always makes people feel relaxed and welcome. Good snacks, too.
What meal makes you feel especially at home?
Duncan, Merlin, lots of books and something in the oven.
What smells or sounds do you associate with home?
I think all homes have a particular smell that you don't notice until you've been away, and then it's the most welcoming thing to return to. I associate our home in the Cotswolds with the smell of fires and wood smoke.
How do you connect with nature at home?
Luckily we live in the middle of the countryside on the border of Oxfordshire and Gloucestershire. Every day, even if I think I'm too busy, I'll head out for a walk – endless fields and woods reach right up to our garden gates.
Who does the housework in your home?
I share it with Duncan! But he's in control of the washing. I always make the beds.
What book has changed the way you think about home?
My favourite book about a house is Cecil Beaton's Ashcombe: The Story of a Fifteen-year Lease. I'm a big Beaton fan, and this story about him finding, decorating and living in his first country house is utterly magical and inspiring.
What do you most appreciate about your home? 
It's a sanctuary. Where we live now, we can't see any other houses from our windows. It's incredibly quiet, and feels very private, but it's close to small towns and villages, so we don't feel cut off. Our nearest neighbours are cows.
How has lockdown changed the way you feel about home?
It has reinforced what I've had in my mind for a long time: home is my retreat, and living with beautiful, meaningful objects makes me very happy.
If you could, what one thing would you change about your home?
Perhaps it would be more architecturally interesting and romantic. One day we want to live in a folly – a tower or something Gothic would be ideal.
Does anywhere else feel like home and why?
Apart from Camden, I must say Edinburgh (where Duncan is from) feels very much like home. I've been visiting for twelve years or so, since I met him, and it has a very cosy, magical atmosphere.
Quickfire round
Ketchup in the fridge or the cupboard?
Fridge! Cold ketchup is the best.
Shoes on or off?
Oh, on is fine.
Shower or bath?
Bath!!! The water pressure is terrible in both of our homes so we only take baths.
Curtains open or closed?
At night, closed, of course!
Do you make your bed?
See above: I'm very good.
Keep up to date with all the latest from the Museum
Sign up to our monthly enewsletter for news and stories