Q & A
Michael McMillan
27/11/2019
Michael McMillan is 57 years old. He is British born of Caribbean heritage, specifically from St Vincent. He lives alone in Upper Clapton in Hackney.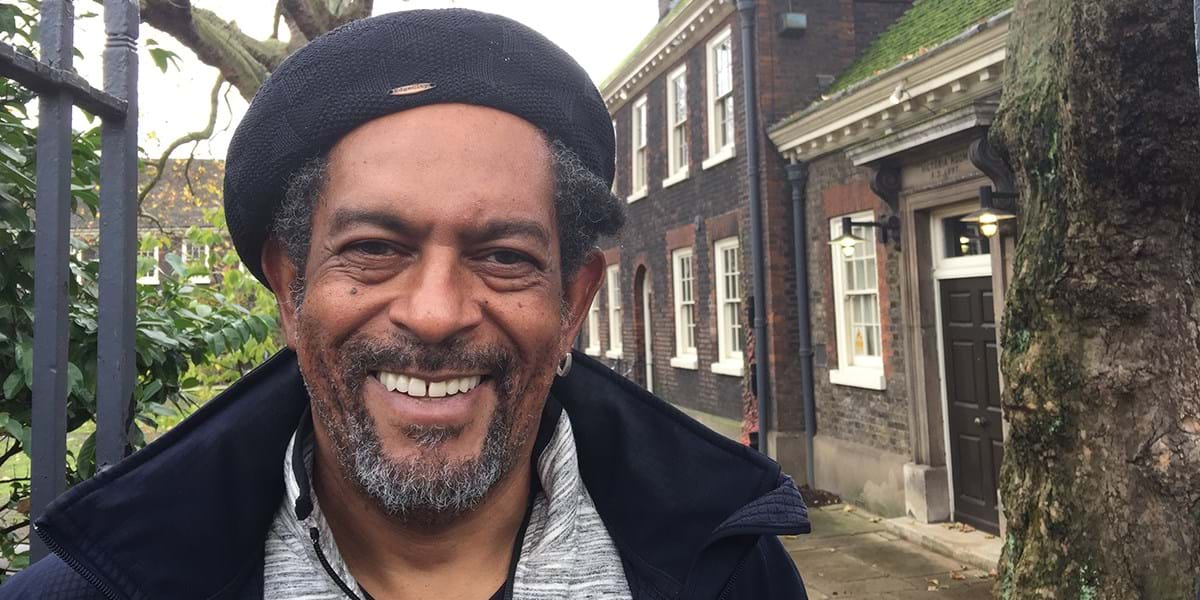 Where is home for you?
I have different kinds of home. I have the physical home I actually live in. I have the home of my partner. I have the home of my aunt.
I feel most at home in my own space. Where I can leave dirty things around! I suppose that's a sense of home.
Is there a particular space you feel most at home?
It depends on my mood. My studio/office, I'm in there all the time. And I like to be in my front room, cos it's really chilling, and I can relax. The best place is my sofa.
How would you describe your home?
Colourful, musical, comfortable
What smells or sounds do you associate with home?
Incense sticks, Caribbean cooking, music
What's your earliest memory of home?
Living in High Wycombe where I was born. We had a 3 bedroom semi-detached house with a front and back garden. The garden was big, big for a child at the time. We had this crate at the back, and me and my siblings used to play games with the crate. We turned it into a bus or a lorry, we were all travelling in this crate.
What one thing would you bring with you if you had to move today and why?
This sounds really masculine, but it would be my computer and harddrive, because all of my work is on there. I've often thought what if I had to leave in an emergency - I'd take passport, money, harddrive.
If you could change one thing about your home?
I'd have a garden. I live in a first floor flat. Then I could have a cat.
What meal makes you feel especially at home?
One of my favourite dishes is akee, saltfish and fried dumplings. It's a Jamaican dish. Akee is like a yellow vegetable and looks like scrambled eggs. You use that with salted fish and it has a very distinctive taste.
Who does the housework in your home?
I do. I find it very therapeutic. It's cleansing. I use it as a break. Most of the time I'm writing, thinking or reading and it's nice to do something physical as a break.
Give us a great housekeeping tip
Do it as soon as you think of it - don't leave it!
What's your getting home ritual?
I take all of my outside clothes off, and change into my home clothes. I get that from school when I used to come home and change. Uniforms cost money and you had to cherish them. That's a habit I developed.
Where do you relax?
On my sofa, I could sleep on my sofa. I sleep there during the day.
Quickfire round
Ketchup in the fridge or the cupboard? Fridge
Shoes on or off? On
Shower or bath? Shower
Curtains open or closed? Closed
Do you make your bed? Always
Does anywhere else feel like home and why?
Somewhere else with really close friends, or with my partner. It doesn't matter where, just being with someone.
Have you ever been homeless or have you ever thought about being homeless?
I remember being technically homeless and what that was like. I wasn't on the street but I was on a friend's sofa.
It made me appreciate the possessions I had. And that those are irrelevant. The most important thing is your own body and that you are okay. That was a profound moment for me.
So getting a second home I've been very aware of what I'm bringing in. What am I holding onto it for? If I'm given a gift instead of putting it away, I use it.
How do you make people feel welcome in your home?
My living room is the space where my guests will come in. I guess the way I was raised means I'm very attentive - ask do you want something to eat or drink? are you comfortable? I get that from my family background.
---
Contributor

Michael McMillan
Michael is a London based writer and dramatist of Vincentian migrant heritage who lives in Hackney. His interdisciplinary practice uses mixed media installation and curatorial work. His projects include Waiting for myself to appear (2019) and The Front Room (2005–present).
---