Experience
More time on hobbies
01/05/2020
My wife Linda and I live in a semi-detached two storey house in the cathedral city of Lichfield.
Both of us are classed as elderly (72 and 67) although I never thought of myself as this until recently!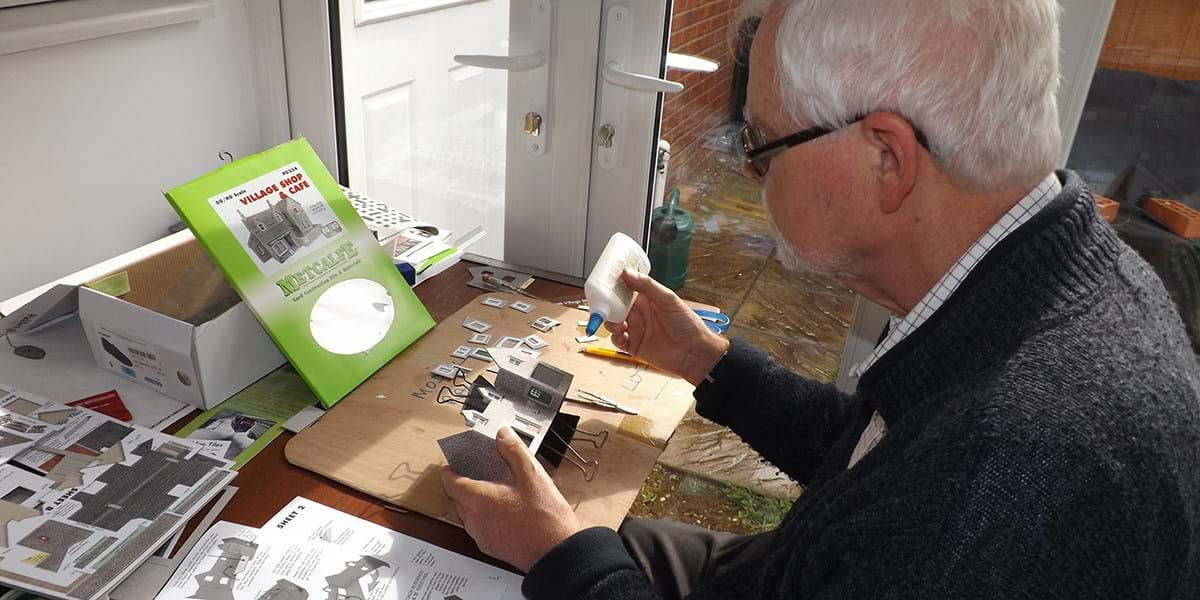 Me making a village shop and café for my model railway in the conservatory
In what ways has the coronavirus pandemic changed the way you use your home?
Well, we're at home a lot more than we used to be as all our outside activities – clubs, visits etc, have stopped.
We try not to get under each others feet as much as possible by using different rooms at different times of day. We spend more time on hobbies than we used to.
As we're both retired we were at home a lot of the time before the lockdown. We try and think of something different to do each day, if possible. For example, we've redecorated our bedroom, converted an old pallet into two garden planters, pressure washed our, and our neighbour's, garden paths etc. But we're beginning to run out of projects.
How do you feel about your home? How have these feelings changed?
I love my house – it's in a great position at the end of the cul-de-sac and next to the park so we have lovely views. I don't think these feelings have changed since the lockdown forced us inside more.
How does staying at home affect your relationships?
Well, we try our best not to get under each others feet as much as possible by using different rooms for different activities at different times.
We have different hobbies – Linda's a great sewer – at the moment she's part of a group called Lichfield Scrubbers, making headbands for face masks to go to local hospitals and care homes. She does this in the kitchen-diner while I'm in the living room playing the piano, or in the conservatory making buildings for my model railway in the garden room. This helps to prevent us driving each other crazy!
But, as I said, being retired we were at home together quite a lot before lockdown so we were already pretty much in this routine anyway.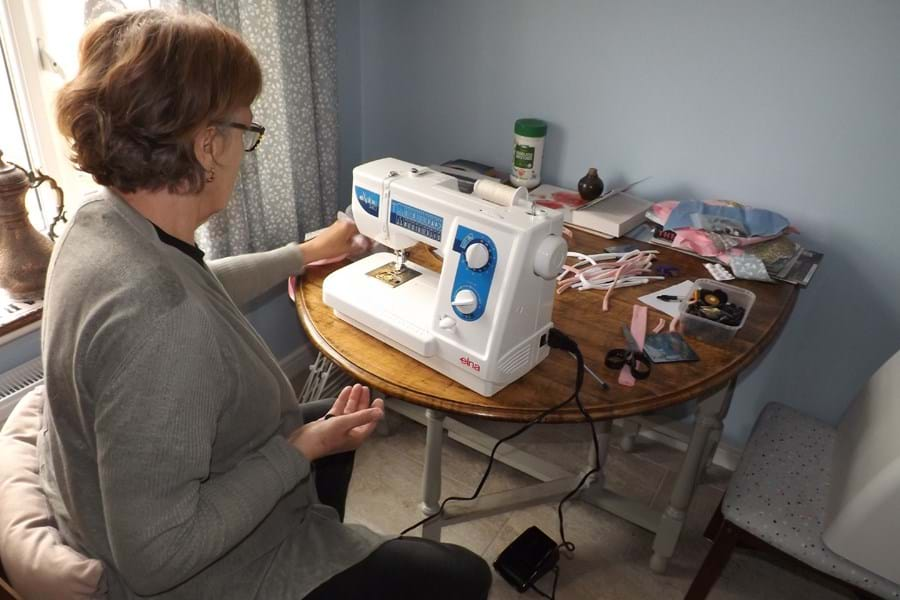 Linda sewing in our kitchen-diner: a new cottage industry
What do you appreciate most about your home? What do you find frustrating?
Our house is well designed and very easy to manage. There's plenty of space for two people. Everything has its place. So it's not the house that's frustrating – it's not being able to go out and see family and friends, going into the city centre to the library or market, or just to get a coffee or lunch.
We go for our daily walk, and buy a paper and other shopping from our corner shop – but this is in no way an adequate replacement.
How has lockdown changed your habits or routines at home?
We've been spending more time on hobbies – Linda's a great gardener and our garden has never looked so smart! I've spent more time on my model railway than usual, and I've been playing the piano more.
I used to play for a local memory group, but this has obviously stopped for now. 
How is your sense of home affected by your neighbours or those living nearby?
At the start of the lockdown one of our neighbours, who's a nurse, came over and asked if we wanted any shopping done – but we've been able to do this ourselves.
We've spoken to our neighbours more than before, and swapped phone numbers in case of emergency. Linda gave some of her surplus seeds to neighbours – and we were very kindly given a cake back by one.
Share your experience
Take part as we document home life during the coronavirus pandemic
Donate now
Support us to continue vital collecting and programming to explore what home means now
Keep up to date with all the latest from the Museum
Sign up to our monthly enewsletter for news and stories