Experience
My grandchildren are writing to me
19/04/2020
I live alone in a Victorian terraced house in Dalston. I've lived here for more than 35 years.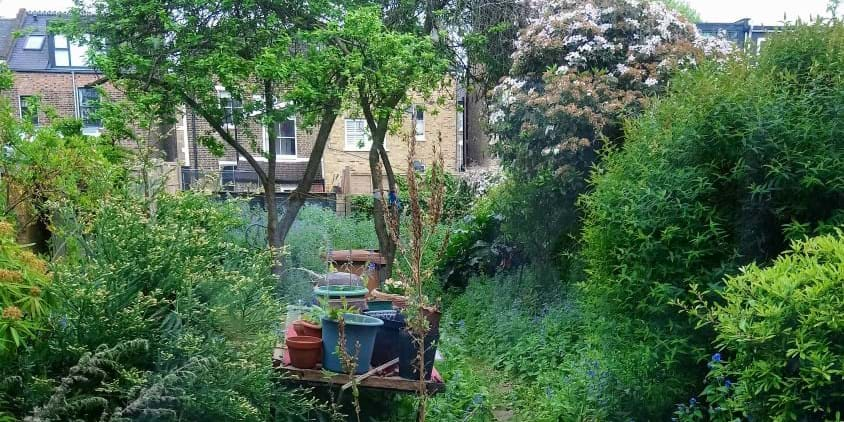 I am taking a half hour daily garden walk
In what ways has the coronavirus pandemic changed the way you use your home?
Since the outbreak of the coronavirus I have been self-isolating and therefore making much greater use of my back garden. My back garden has become an extension of my kitchen.
How do you feel about your home? How have these feelings changed?
I feel that my house is like a palace rather than a prison. I suppose if it's anything of a prison it's a prison of pleasures. It's where I read, watch movies, paint, write poems, dance and sing.
My home is more precious now than ever before, everything now happens here.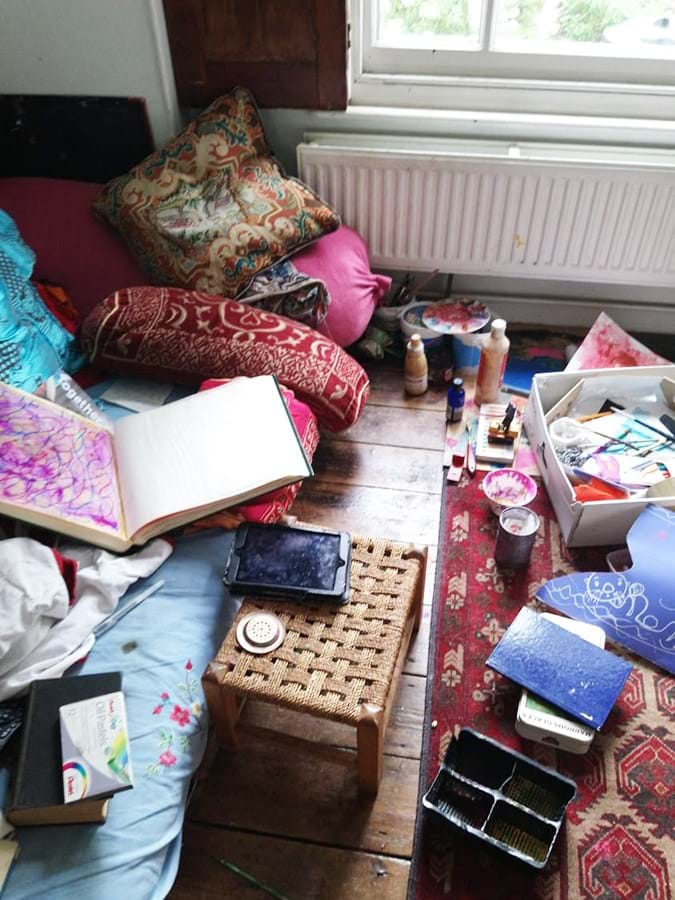 My front room/studio where I do my creative work, mostly painting, writing poetry and watching a bit of TV
How does staying at home affect your relationships?
Self-isolating has actually improved my relationships.
The internet has allowed our street to grow as a community. People are offering their help, people who I never expected to offer. More people from all over the world are also getting in touch.
My cousins in India, many of whom I haven't heard from for many years have formed a WhatsApp group and I speak to my son in Japan everyday on Skype and my brother in Brazil.
My grandchildren are now also writing letters to me.
What do you appreciate most about your home? What do you find frustrating?
I appreciate the space inside my home and the back garden. Staying home has made me notice all of the things that need to be repaired. It's frustrating that I cannot ask anyone to help with the house repairs that I can't do myself.
How has lockdown changed your habits or routines at home?
The lockdown has mostly changed my eating habits. I don't like throwing away food so I have to pay extra attention to ensure things don't go off.
I have also noticed that I am doing less tidying up, as I know that nobody will be visiting.
I'm trying to write two poems a day and doing a daily doodle. I am talking to my children on Skype everyday and to my friends more often over the phone.
How is your sense of home affected by your neighbours or those living nearby?
Thanks to our street's WhatsApp group I definitely feel that there is now a greater sense of community.
Though I feel a sense of sadness that I am now unable to share my home with anyone else for the moment. Nobody can come to visit, eat or pop in for a cup of tea.
The physical sense of home is missing without this kind of direct interaction.
Share your experience
Take part as we document home life during the coronavirus pandemic
Donate now
Support us to continue vital collecting and programming to explore what home means now
Keep up to date with all the latest from the Museum
Sign up to our monthly enewsletter for news and stories