Experience
Nature gave us holidays
13/05/2020
We live in Hackney in a (small) rented flat. Normally I live only with my daughter Lisa (15 years old) but my son Theo (17 years old) who lives close to his college (the BRIT school) is back home.
Theo is sharing the same room as Lisa at the moment and on many occasions sleeps in the living room. When we were sick with Covid 19 Lisa slept in the living room.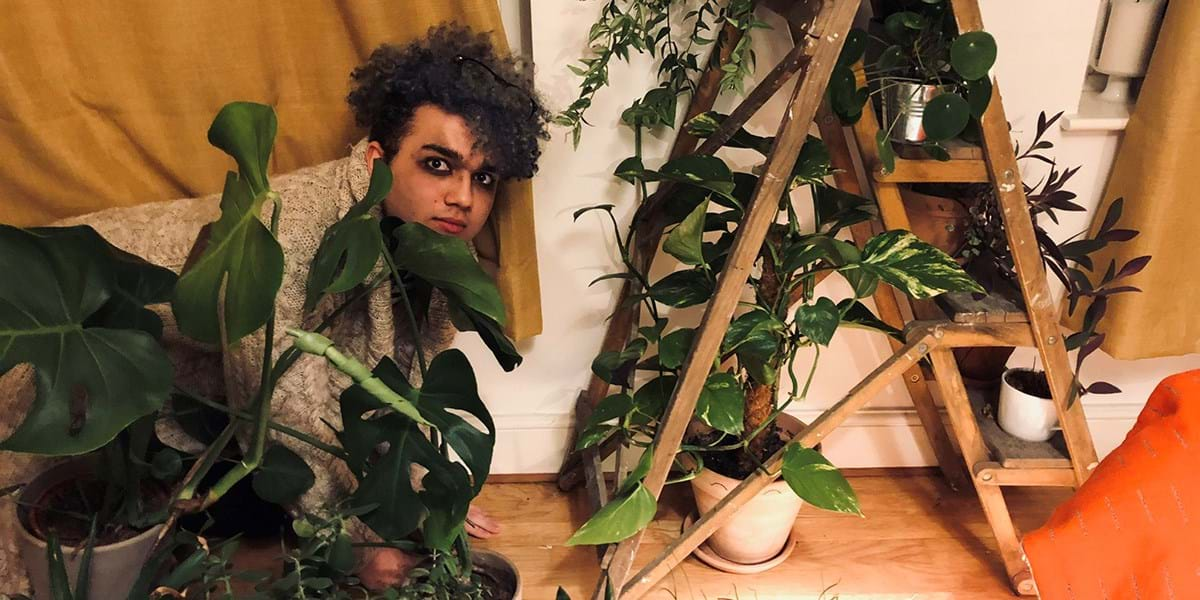 Living room with the set for the movie Theo is filming
In what ways has the coronavirus pandemic changed the way you use your home?
Normally I travel a lot, I spend half of the month in Lebanon and Tunisia (for my work), so now I am really enjoying being at home.
Lisa studies in my room, as I have a big table, meanwhile I practise yoga in the living room and Theo makes art projects.
The fire exit is now a small, beautiful garden. I have planted so many things.
In the living room I have my sewing machine (making masks for friends and cushions with Lisa). I also have my plants 'nursery'. Theo has his paintings and camera.
We clean a lot and are all the time organising the space and adapting to what we want to do in a particular moment.
The fire exit is also a place where we play board games. Theo is preparing a stop-motion short film and we had a set in the living room.
We eat on the floor like camping. It feels like a retreat or a summer camp.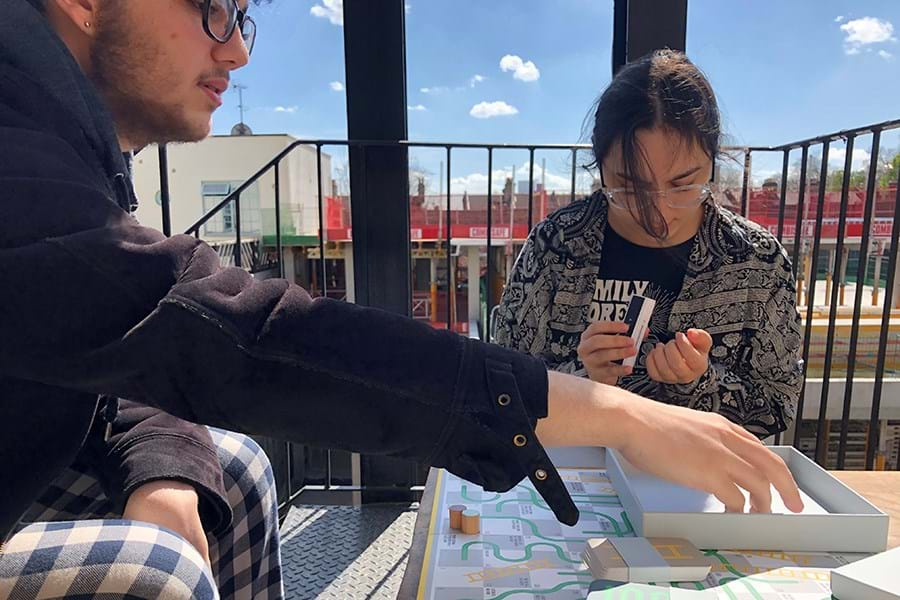 Fire exit life!
How do you feel about your home? How have these feelings changed?
I feel happy to have a safe place, a shelter and we all feel happy. Even if the space is relatively small (three rooms) we manage to be independent and keep each of us a space.
Theo and I had Covid and we were quite unwell. We were quarantined for one month and managed well thanks to a couple of friends for groceries and Lisa did all the cooking (soups, teas) and the cleaning.
During all this challenging time we felt safe (I self-isolated in my room and Theo in his). Despite the uncertainty, the fears, we managed to keep strong and busy. We read a lot. We decided to read classics such as Jules Verne books.
Staying at home also allowed me to rest (as I was tired because of so many trips for my work). Watching series or nice movies together is also a joy.
It seems nature gave us some holidays and our flat is like a boat on a river or a cabin in a mountain.
How does staying at home affect your relationships
Even if some minor conflicts have happened between the three of us, we have managed to establish some rules, re cleaning, cooking, the use of the space, and how we wanted this time together.
Some things we do together (art projects, movies, games, meals, Zoom with extended family) and some independent activities (studies, music, work, hobbies).
The key issue is to balance time together and time on our own or when we speak with friends and family members who are abroad. Every day I have 'poetry club' with my boyfriend and every week (Friday night) we have a singalong with my family who are in Spain and France. These times spent with other people virtually are also very important.
Generally I think my relationship with Lisa and Theo is stronger. We are together in this.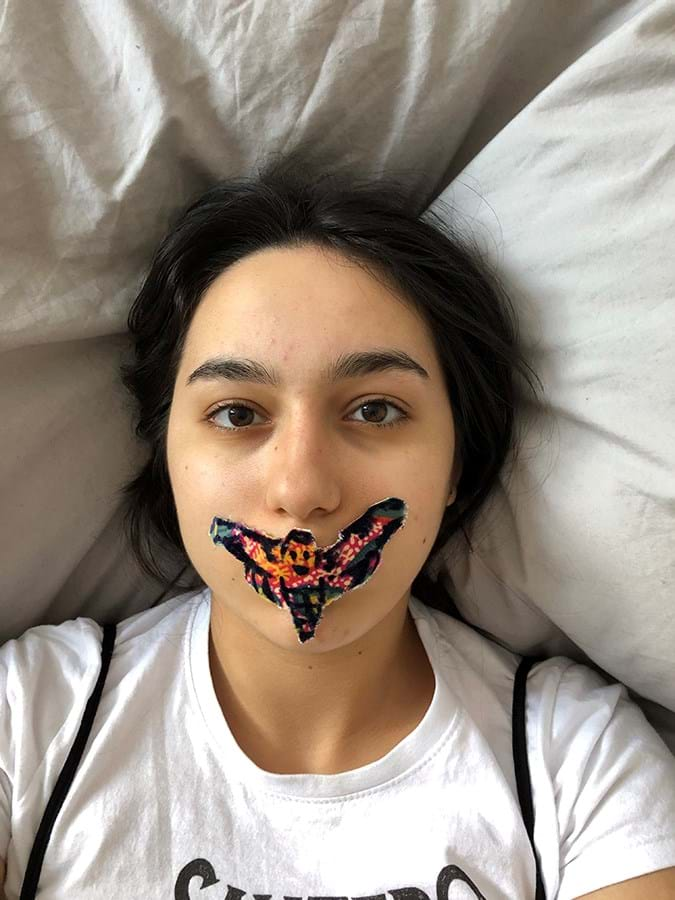 Lisa's selfie for a family challenge of representing a movie poster (The Silence of the Lambs)
What do you appreciate most about your home? What do you find frustrating?
The light, my books, yoga mat, small fire exit / mini garden, art material, small but well equipped kitchen, the sofa, all the online possibilities, access to movies etc. These are great!
What is frustrating is the constant noise of construction works, the small size of the flat, we really need at least one more room. Not having a proper garden.
How has lockdown changed your habits or routines at home?
It has changed massively! Normally I travel a lot. Now I am at home.
We wake up later, we cook a lot (healthy vegetarian meals), we bake bread, we do gardening (seedlings, microgreens and planting what we have grown), I came back to sewing. My son does many art projects. Lisa does her homework talking to her friend Lila and volunteers online. She plays the guitar a lot and listens to many podcasts. We have more time for our hobbies / favourite activities.
Some other moments we are super lazy and decide to brunch watching movies (all the Jurassic Park movies in two days).
We are also using things we were not using, like the sewing machine, the old PlayStation and the clippers (to shave the hair).
We have transformed completely the fire exit with a small garden. We have more plants now. Plants seem very important to us.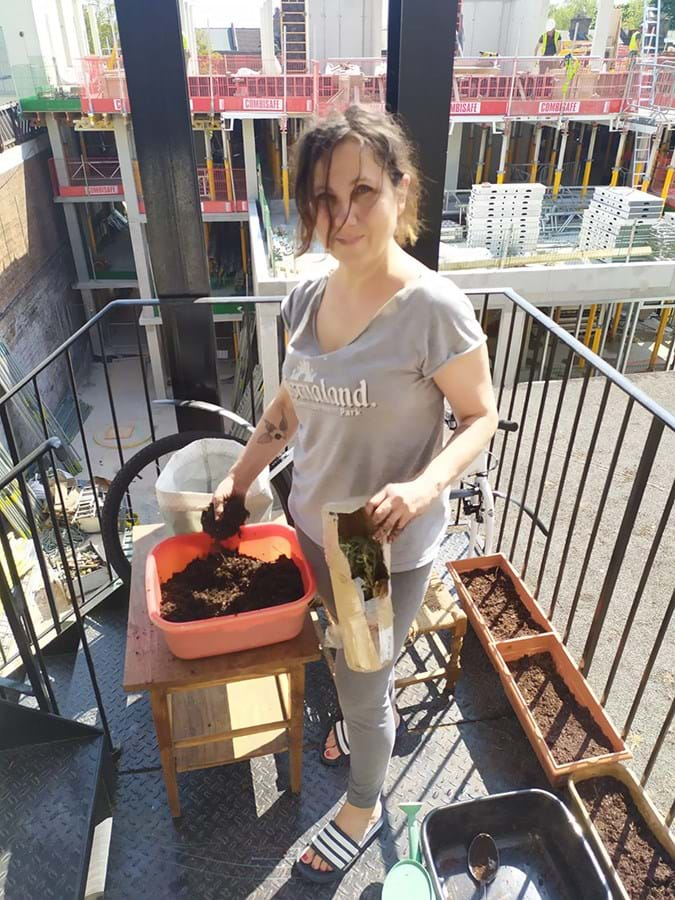 Mini garden
How is your sense of home affected by your neighbours or those living nearby?
The worst part is the noise of the construction works. We don't see our neighbours too much but we sense them, we know they are around. We hear the clapping on Thursday and we sometimes see some young neighbours students practising sport in their mini garden. There is also someone who sings in her flat. I imagine they see me with my gardening activities.
Share your experience
Take part as we document home life during the coronavirus pandemic
Donate now
Support us to continue vital collecting and programming to explore what home means now
Keep up to date with all the latest from the Museum
Sign up to our monthly enewsletter for news and stories