Experience
Not doing gardening
23/05/2020
Semi built 1928, mock Tudor by sea in north east of England. Full time home. Live with husband. Renovated by us seven years ago. Four bedrooms, large garden, garage.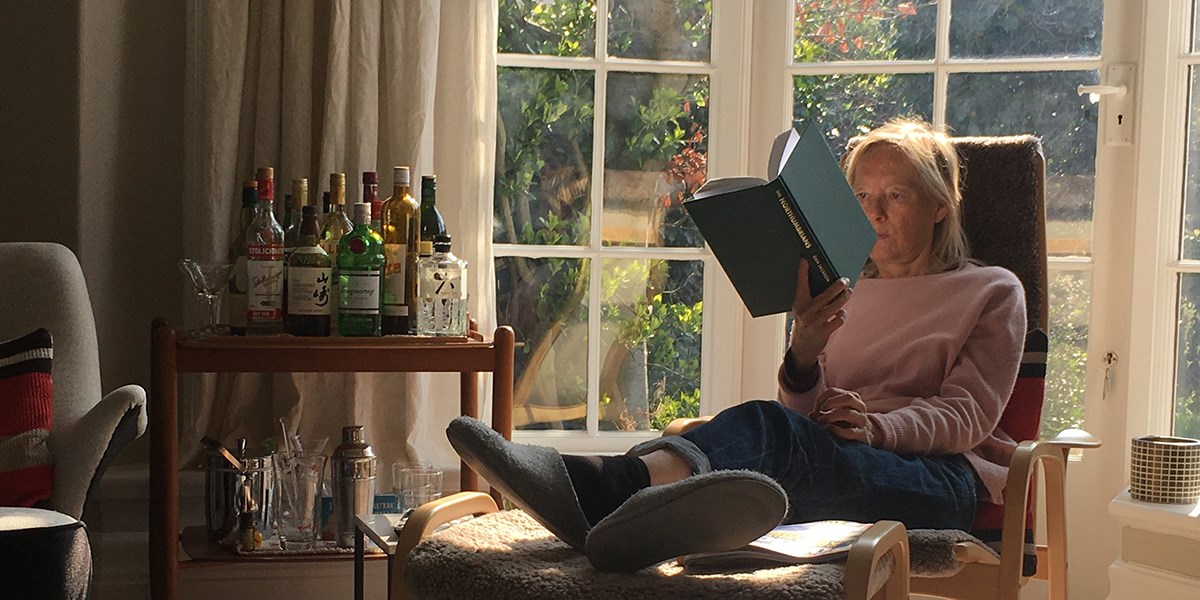 I sit here to read, I also do exercises in this room and Zooms.
In what ways has the coronavirus pandemic changed the way you use your home?
We already worked from home so spent a lot of time here (now retired, almost). However, we also travelled a lot to visit friends and family, or to stay in Lake District for walking, other UK holidays and a couple abroad a year. Now spending more time at home of course.
Reading more, sitting in garden more. Not doing gardening because we just can't seem to get into it (we lived in apartment in Glasgow before and never had a garden). Exercising in the house and garden.
We used to go out for lots of meals so, once a week, the kitchen is turned a bit more posh to emulate this.
Generally improving house environment e.g. sorting things out – cupboards, under beds stuff, garage. Moving nice mid-century furniture from my parents' home (my mother died in November last year, house sale stalled).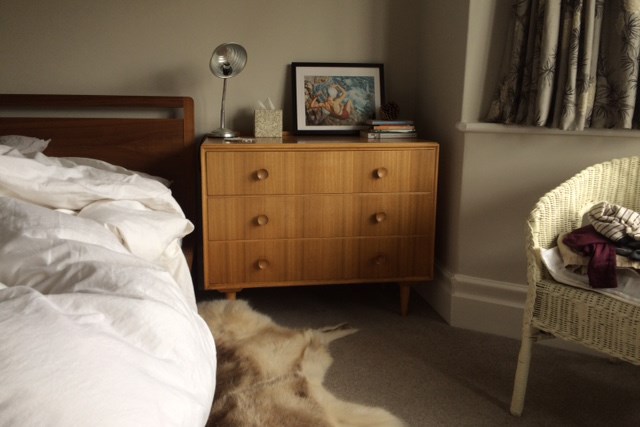 A chest of drawers, inherited from parents whose house I was trying to sell
How do you feel about your home? How have these feelings changed?
I absolutely love my home. One of my main interests in interior design, architecture, furniture, ceramics, art.
We renovated this house seven years ago and just think it almost perfect for us. It's very big, as well, to accommodate friend and family who (used to) come to stay. The change is that I like the house even more the more time I spend in it.
How does staying at home affect your relationships?
It has ironically meant keeping more in touch with some friends that live at a distance, e.g. London, through Zoom meetings and phone calls, which is nice. Not much effect otherwise.
What do you appreciate most about your home? What do you find frustrating?
Appreciate the way it looks, its style, atmosphere, its size, location, spaciousness and light – fantastic that we are two minutes from a beautiful beach to walk on every day. Also large garden to sit in and run around! Frustrating? nothing really, a bit big to have to clean!
How has lockdown changed your habits or routines at home?
I do (or try to) exercises at home three times a week and these include running round the garden. Sitting outside in the sun more, instead of a pub garden. More time for reading, cooking. I did a lot of this anyway but more now.
New – my exercise routine involves listening to classical music (new to me) as I've inherited my Dad's collection. Making more things like scones and cakes, which I didn't before. Learning about things, a bit, such as ancient Greek heroes. Cooking evening meal sometimes a welcome activity now as have more time, whereas before it was 'oh not my turn again'.
Other routines are regular Zooms with various groups of friends and family (always 10 friends on Fridays at 5.30pm, 'cultural review' with two friends on a Thursday). As not possible to go to cinema, pub, restaurant, theatre, friends' houses we watch more films, e.g. on Mubi, or catch up on series not watched before such as Veep.
Trying to tackle more cleaning. Also visiting parents' house (3 streets away) once a week, to check up on it as it is up for sale.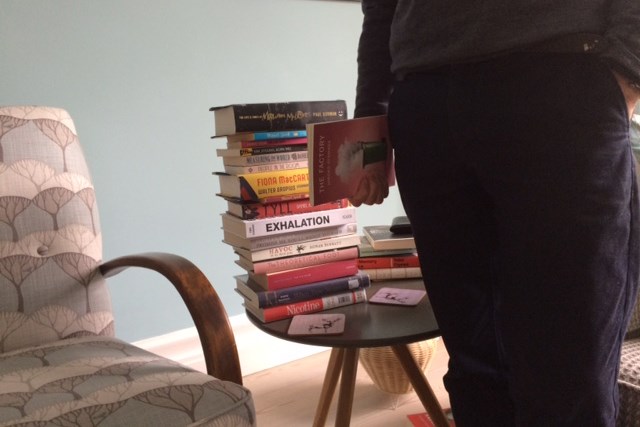 My husband is not only counting how many books he has read, but measuring them too. The pile currently stands at 16 books; 43 cm.
How is your sense of home affected by your neighbours or those living nearby?
We have really good neighbours. All really pleasant and friendly. It's a great street to live in. There's a sense of gratitude. I feel that we live in a lovely street right by the sea. It's in a town Conde Nast Traveller has included (literally just now) in its list of 'coolest neighbourhoods in the UK' (under the radar).
Share your experience
Take part as we document home life during the coronavirus pandemic
Donate now
Support us to continue vital collecting and programming to explore what home means now
Keep up to date with all the latest from the Museum
Sign up to our monthly enewsletter for news and stories