In pictures
Pots, jugs, jars, tins, urns, vases
As we are stuck indoors some of us are turning our attentions to brightening up our spaces. Bringing some of the outside in.
Houseplants and cut flowers have long played a part in homemaking and how we display them has reflected changing fashions and tastes.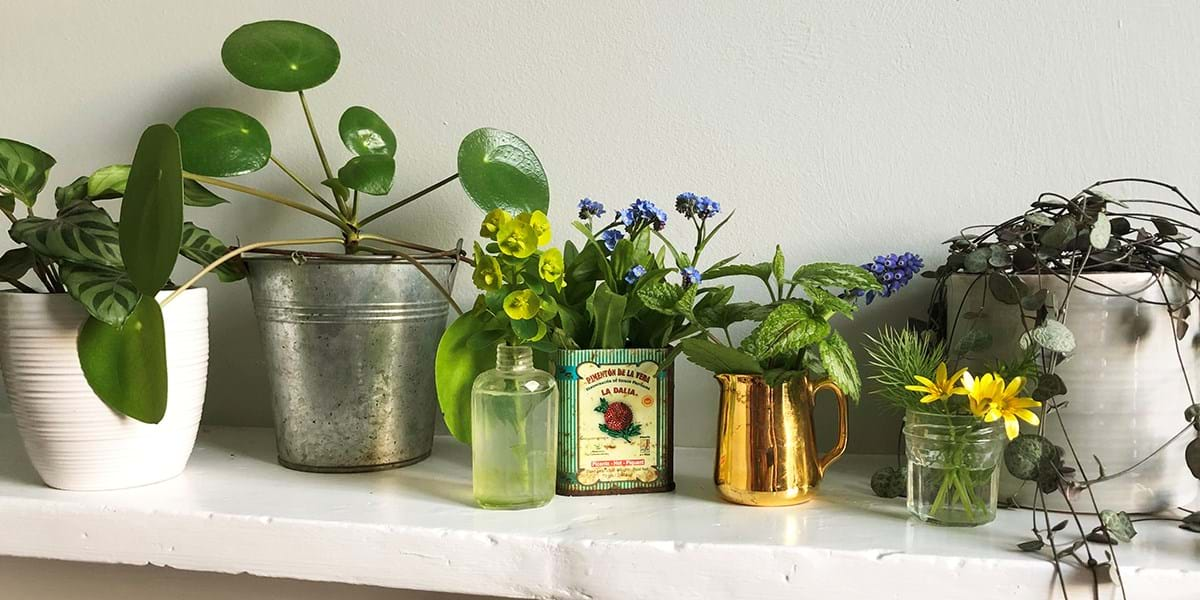 We bring plants into our homes for many reasons. It might be to bring nature indoors, improve air quality, combat a bad smell, give a lesson in caring for a living being, to show our personal style, or for our own wellbeing.
Pots and vases have adorned our homes for centuries, whether containing plants or not. Sometimes, we even create our own out of the objects in our home.
What have you repurposed as a plant pot or flower holder?
As our preferences for plants change so too do the types of vessels we put them in.
---
Objects of desire
There's a rich vocabulary to describe holders of plants and flowers: flower brick, cache-pot, jardinière, bow pot, bulb pot, trumpet vase, finger vase or quintal horn.
It shows just how important the display of plants and flowers is for home decoration.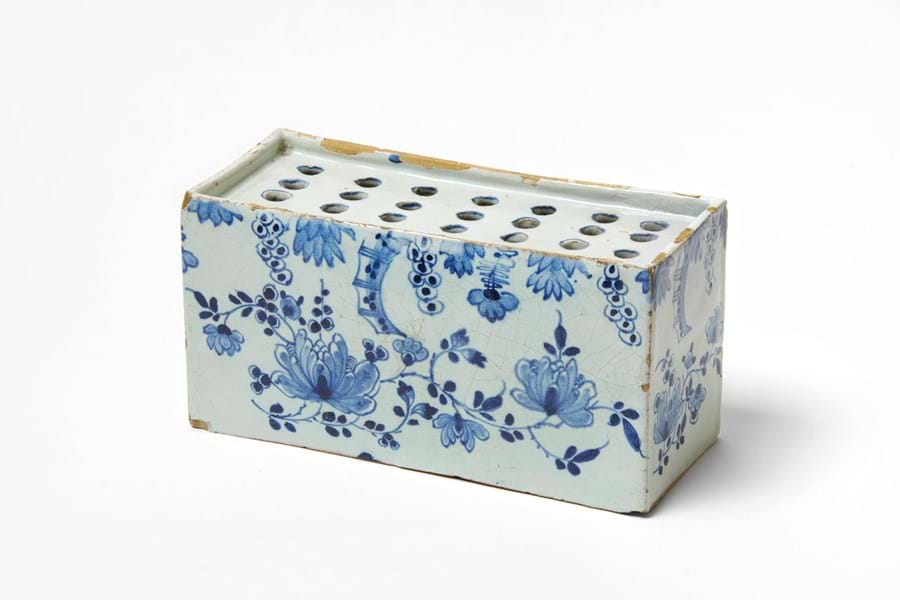 Object number 2/2018
English Delftware flower brick, about 1740
Earthenware flower bricks were popular in the 1600s and 1700s. The individual holes in the top allowed delicate displays of individual stems of flowers like crocuses and tulips.
---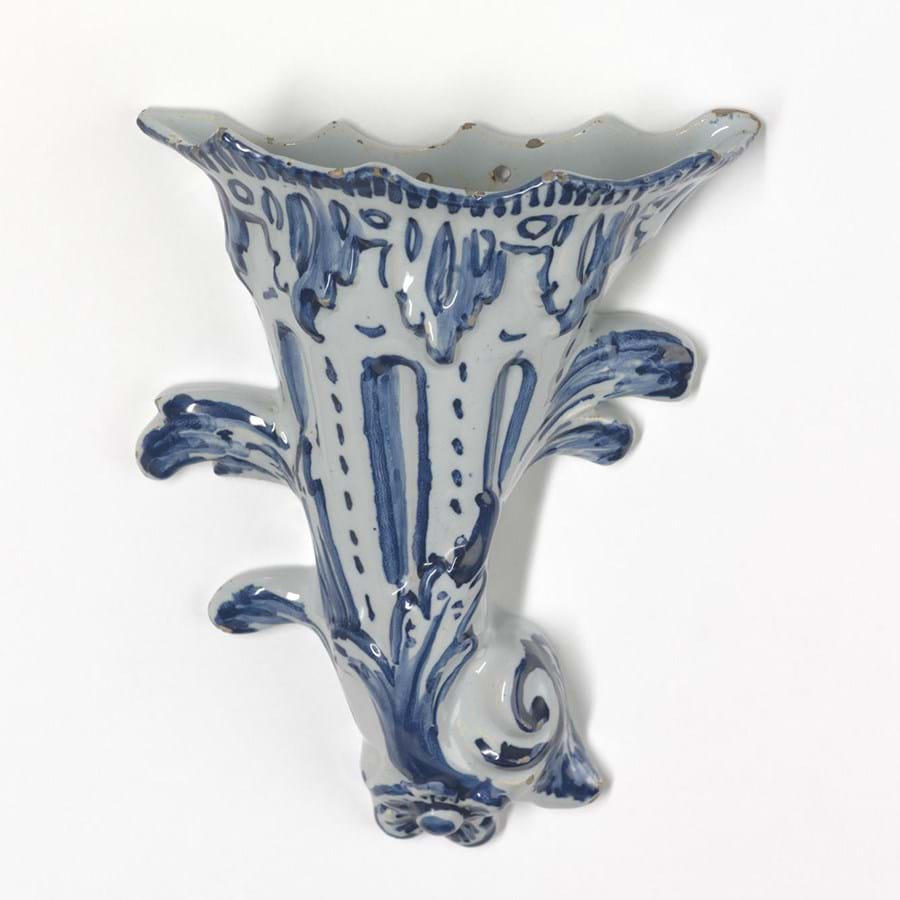 Object number 100/2010-1
Flower horn wall pocket, about 1740 
A flower horn would be hung from the wall, adding decoration to the room alongside the plant it contained.
---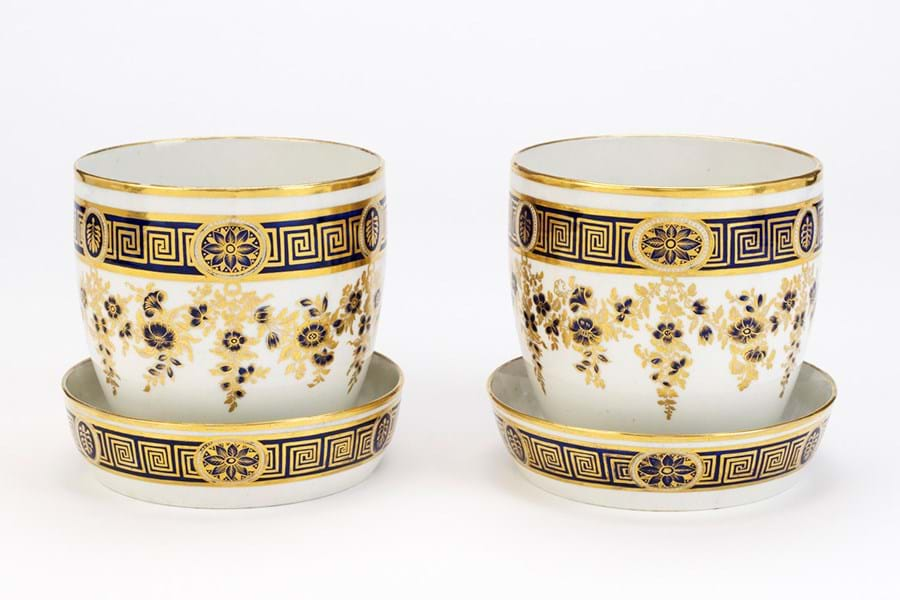 Object number 184/2015
Worcester porcelain flowerpot, about 1755–1792
This flowerpot is made of porcelain with gilding and a fashionable neoclassical Greek border. Porcelain became more affordable in the 1700s and was a way to show off good taste.
---
Style over substance
Vases were often just as desirable as the flowers themselves.
It was common for expensive vases to be left empty.
You can see these examples would struggle to hold any flowers at all.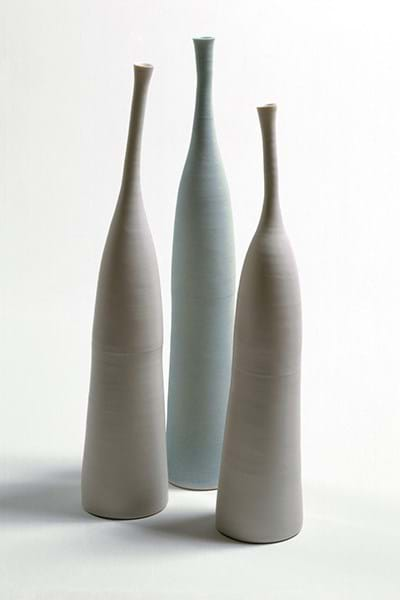 Object number 223/1998
Hand-thrown porcelain vases
Designed and made by Sophie Cook, retailed by Space, London, 1998. Only half of all the pieces she makes survive the process, the translucence is a reminder of porcelain's fragility.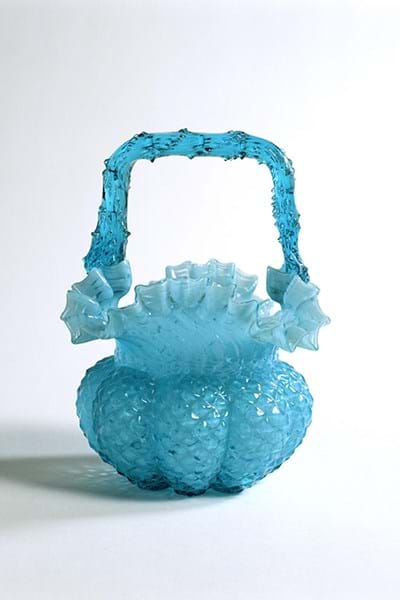 Object number G 6
Basket-shaped vase
Marbled turquoise pressed glass in a bulbous basket-shaped form, about 1840 to 1880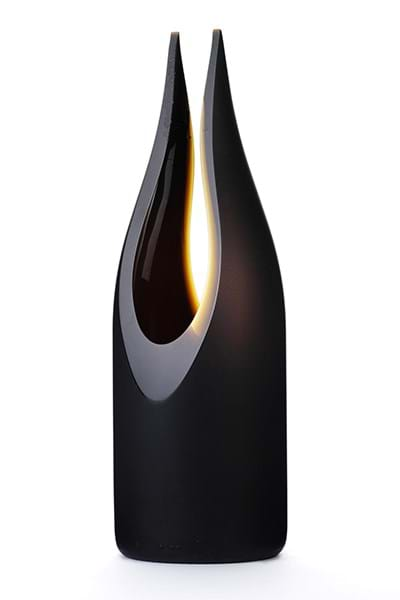 Object number 62/2010
Glass vase manufactured from a recycled wine bottle
Designed by Tord Boontje and Emma Woffenden in London in 1997. Manufactured by Artecnica in Guatemala, 2009.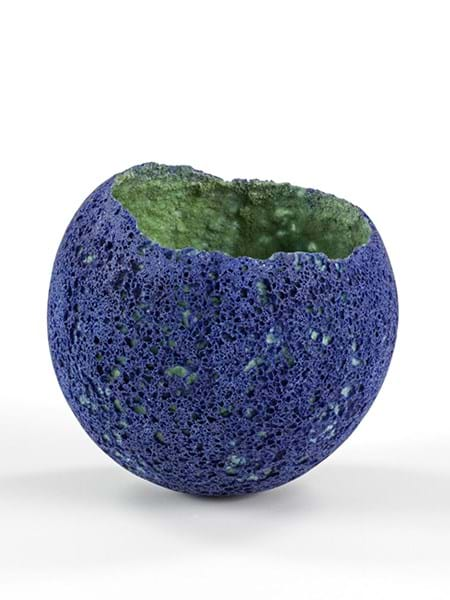 Object number 40/1999
Vase made from crushed, fired and polished recycled glass
With a pitted blue surface and green interior, made by Emma O'Dare in London, 1998.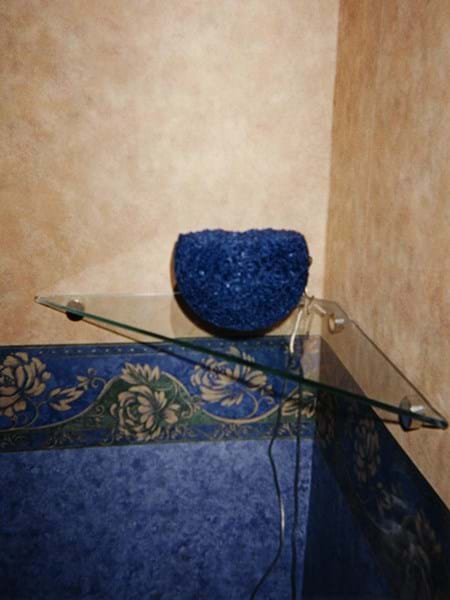 Object number 91/2008-2
A similar vase by Emma O'Dare on display 
It was bought by Mr and Mrs B from Orpington, Kent. They particularly liked its colour, texture, delicacy and originality. They described it as a 'vase/ornament'. From our Documenting Homes archive
---
Make do and improvise
Everyday household objects have always been used as flower and plant holders.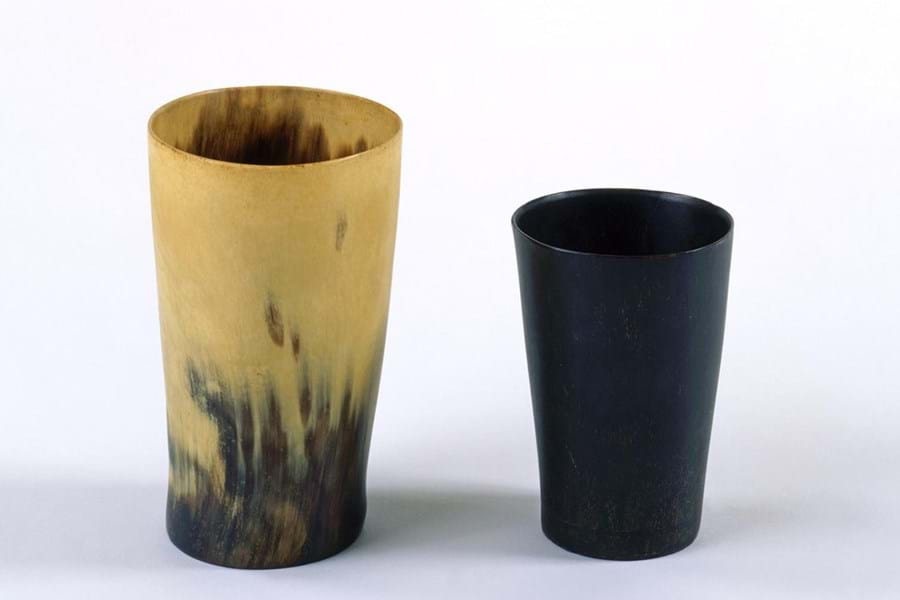 Object number MI 437
Horn beakers
Kitchen items like earthenware pots, pewter vessels and horn beakers were commonly repurposed to hold flowers in the 1600s.
Horn beakers like these ones might have been filled with fritillaries (from the lily family) which were popular at the time.
---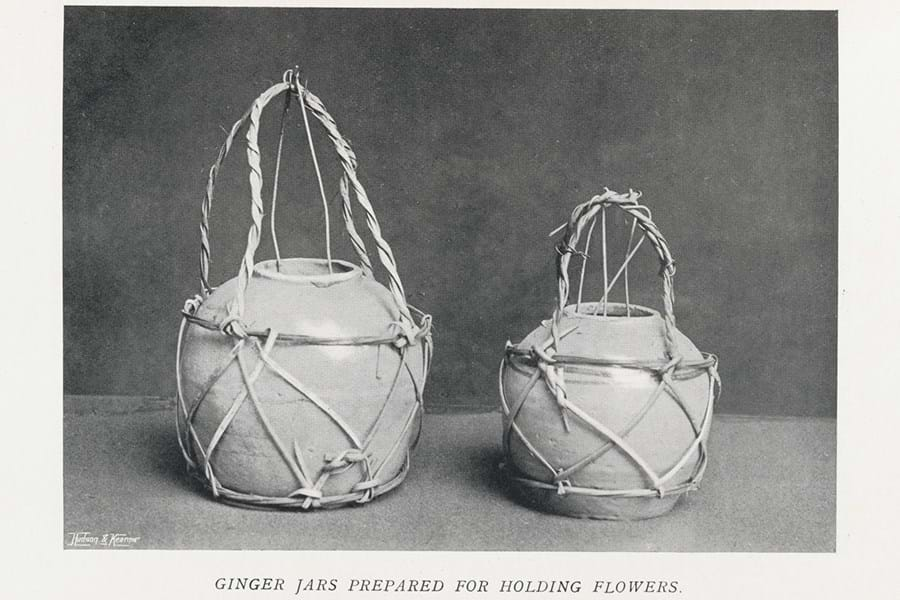 "Country Life," Ltd. George Newnes Ltd. 190
A page from Flower Decoration in the House by Gertrude Jekyll, published 1907
In the early 1900s influential gardening writers like Gertrude Jekyll and Constance Spry produced books and magazine articles giving advice and ideas on how to arrange flowers in the home in the most stylish ways.
Both of these authors promoted the use of 'found' objects to display flowers in.
Here Jekyll (1843–1932) shows how ginger jars can be prepared as flowerpots.
She writes "… glass things are in many ways the pleasantest and prettiest and cleanest to put our home flowers in...yet in almost every house there are cherished flower-holders of other material than glass."
---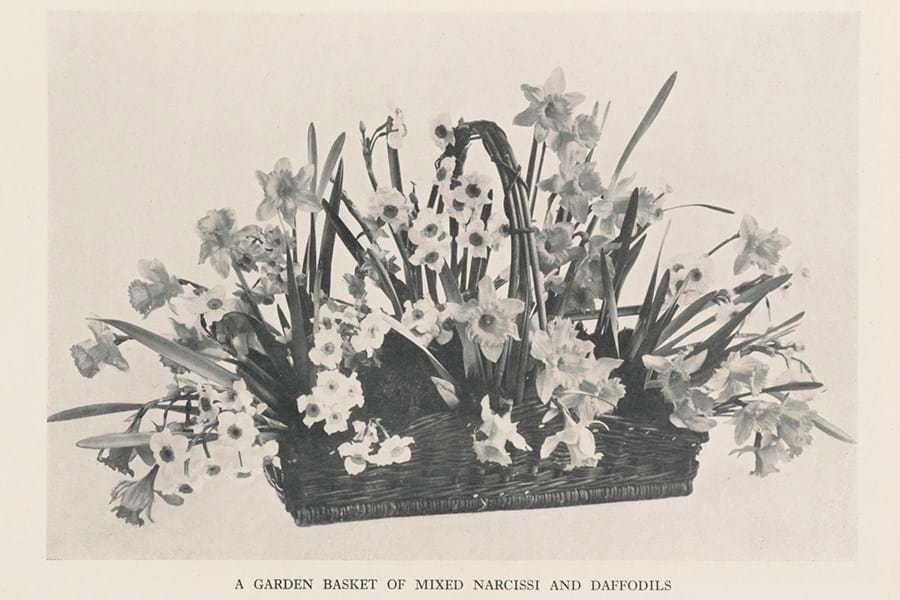 London : J.M. Dent & Sons, Ltd., 1937.
A page from Flowers in house and garden by Constance Spry, published 1937
Here Spry (1886–1960) shows how baskets can be used as holders for floral arrangements.