Experience
Scrubs, washing, ironing
27/04/2020
My husband and I live in a 4-bedroom house in Tytherington, Macclesfield, Cheshire.
I am a retired (59) District Nurse and my husband (60) is a Manchester University Professor and Vice President of Research (Chemistry).
We are in the process of moving to Cumbria.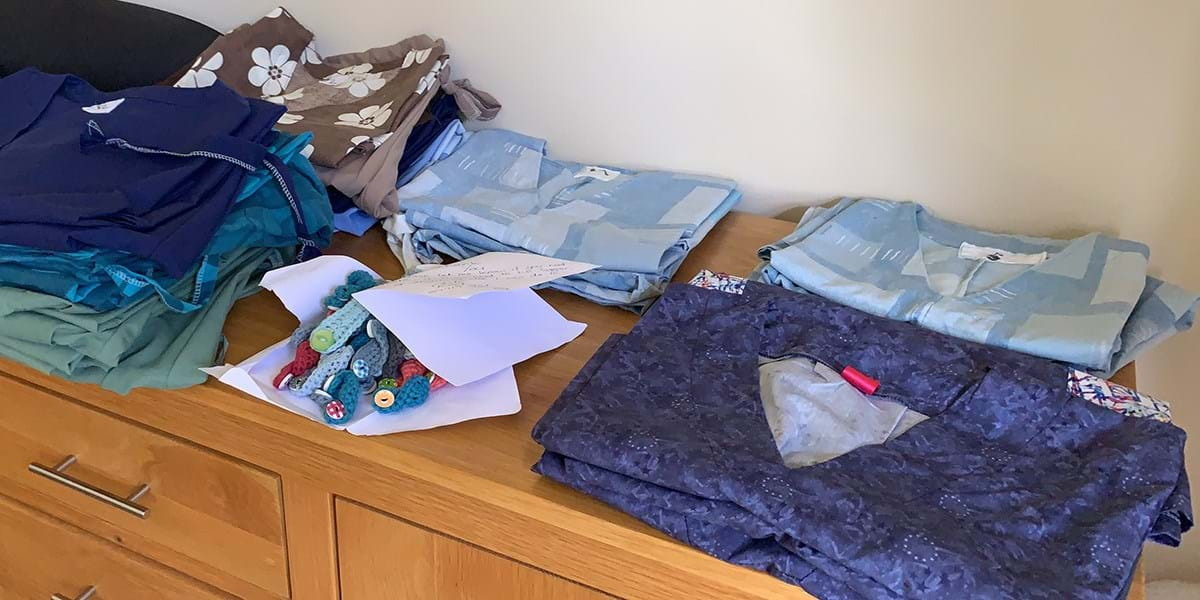 In what ways has the coronavirus pandemic changed the way you use your home?
I am making and collating scrubs for District Nurses, hence the boxes, sewing machines and the scrubs waiting to be ironed!!! My husband is spending most of his day in Zoom meetings with his colleagues and students. Scrubs, washing, ironing!!!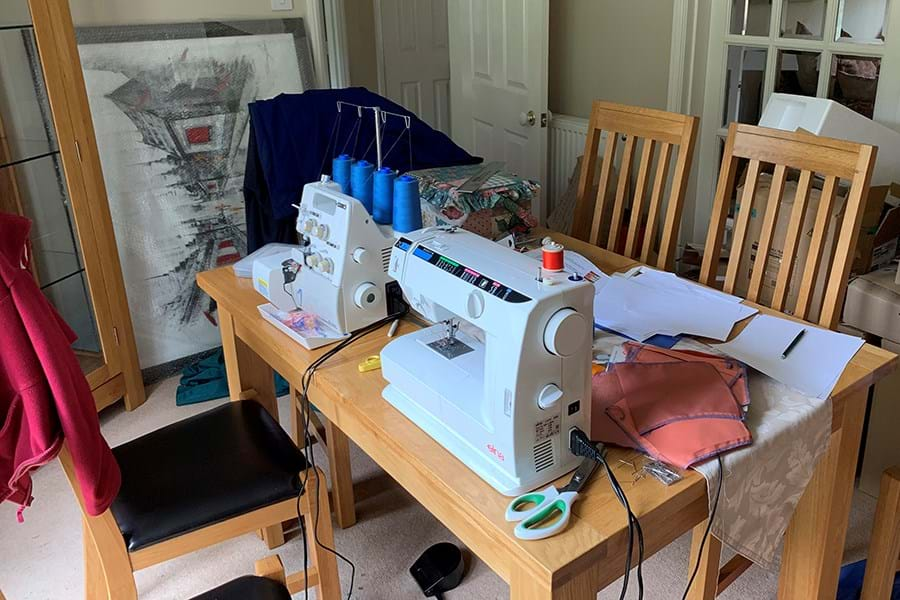 Our dining room showing fabric, sewing machines and lots of mess, normally there isn't a thing out of place!
How do you feel about your home? How have these feelings changed?
We love our home but are moving north to renovate our 'forever home'. We are very lucky that we have space and a large garden. We live in a close and we have been 'having a drink and a chat' with our neighbours on a Friday evening, whilst socially distancing.
How does staying at home affect your relationships?
We have plenty of space but we have found some frustrations, mainly because we can't wait to move house.
What do you appreciate most about your home? What do you find frustrating?
We love the space but we are frustrated that we can't move yet.
How has lockdown changed your habits or routines at home?
We love the time we have to just take our time. I love baking and cooking so all our meals are made from scratch with time. I have been baking and sharing with our neighbours.
We all WhatsApp each other if we're going shopping, we have a weekly fruit and veg and a meat delivery. We're going to have a joint Indian takeaway next week!
How is your sense of home affected by your neighbours or those living nearby?
Our younger daughter lives in Macclesfield so if she does us some shopping we can't invite her in which is very upsetting. Our friendship with our neighbours has developed so much that we are friends now.
Share your experience
Take part as we document home life during the coronavirus pandemic
Donate now
Support us to continue vital collecting and programming to explore what home means now
Keep up to date with all the latest from the Museum
Sign up to our monthly enewsletter for news and stories