Experience
The smell of a baby's head
29/04/2020
Sandy and I are life partners as well as architectural work partners and we live together in a semi detached Victorian house in Camden.
Our kids are grown up and have left home but they and our grandchildren visit us often, except under COVID-19 restrictions.
For some time, I've been trying to persuade Sandy that we should downsize but I'm now very glad I didn't succeed, as we have plenty of space for working as well as living under the lockdown.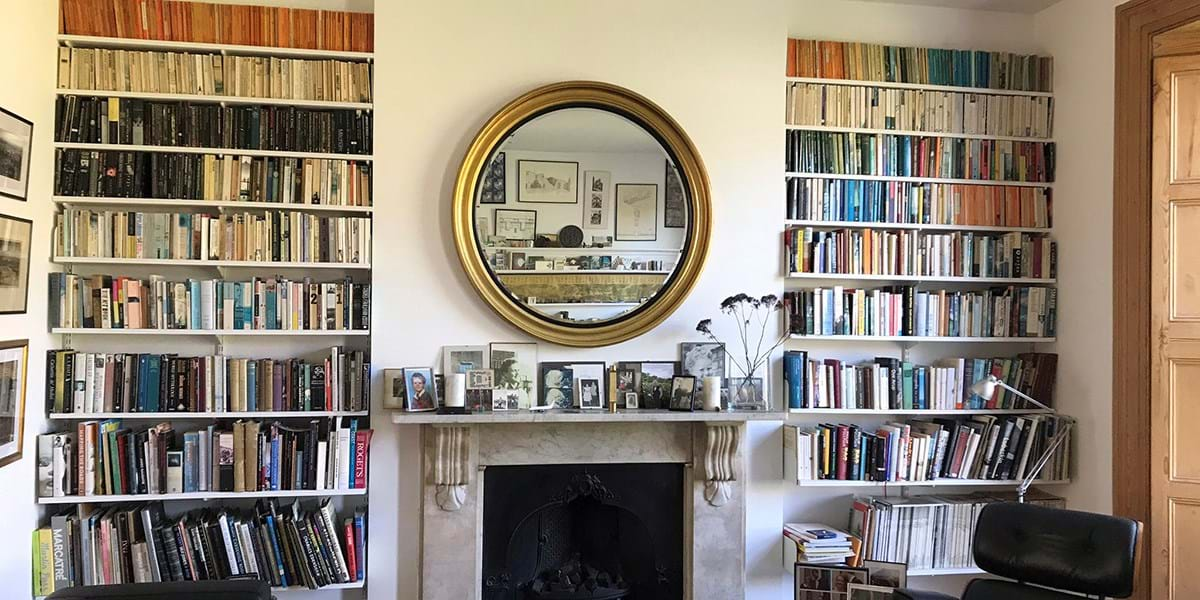 In what ways has the coronavirus pandemic changed the way you use your home?
We work at home now. Our ground floor has two large interconnecting rooms, with sliding doors for separation. Sandy has the west facing study, which he used anyway, but only for attending to domestic organisation and very occasional home working before shut down.
You can see in the photos that we collect things that are on display in that room, mainly associated with buildings but also, in particular, 3D paper cards of buildings and some of our books. I work in the east facing front room. I've created a desk from a card table I inherited from my Granny.
I look out the window and have seen the gradual effect of changing life. There are now rarely any cars and not a lot of people but more families out on bikes or with skateboards and occasionally those with shopping bags.
We have a kitchen diner onto the garden where we eat and relax at lunchtime and in the evening.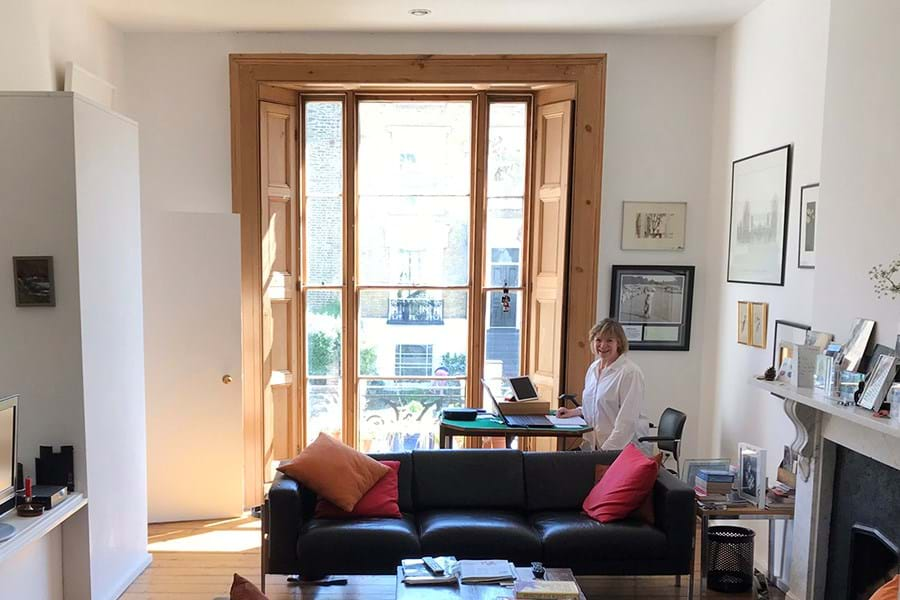 Where I'm working, at the window
How do you feel about your home? How have these feelings changed?
I love my home. We bought it as a 'dangerous structure' with a sitting tenant, during the financial recession of the early 90s, when we could no longer afford the mortgage on our flat across the road.
Sandy cast new foundations and hydraulically lifted each floor, and rebuilt the roof. I stripped all the woodwork you can see in the photos. We had no money and it was a massive amount of work, which took seven years.
We created a studio flat in the basement for Johnny, our tenant and got him a social worker. He had been living in the attic with no heating or hot water. Many years ago he went into category 3 sheltered housing.
I don't think my feelings about my home have changed under lockdown, though I miss seeing other people.
How does staying at home affect your relationships?
For Sandy and I our relationship isn't very different from normal. We have worked together for 25 years.
During that time we have learnt to give each other some space and to carry out separate activities, as well as doing things together. We miss seeing our children and grandchildren very much and Skype isn't a good enough substitute for the smell of a baby's head.
I usually look after them one day a week and sometimes collect them early and bring them back to our house, to let their parents have a lie in.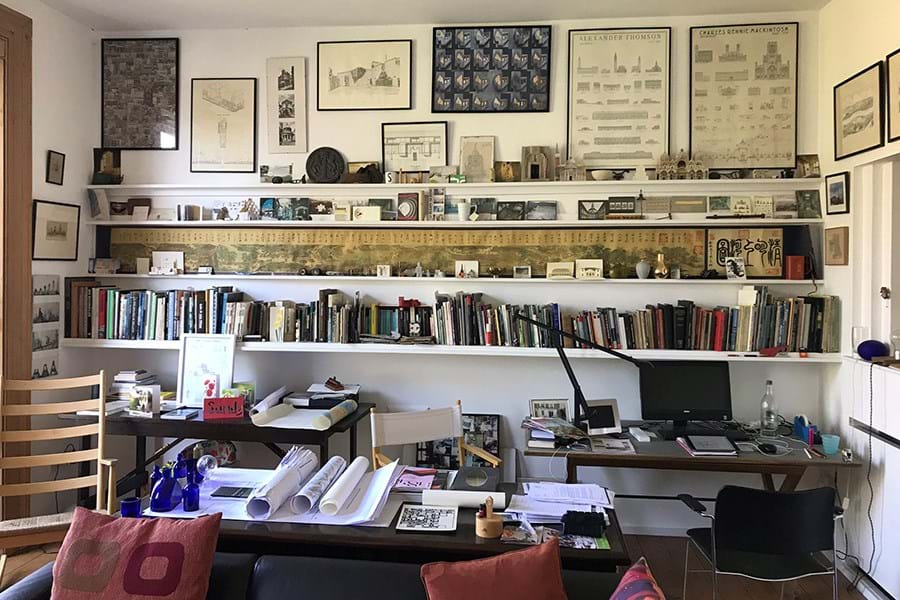 The study where Sandy works
What do you appreciate most about your home? What do you find frustrating?
I appreciate having lots of space and it's quiet and peaceful. We are also very lucky to have a garden, which is better tended than it has ever been.
Since the garden centre was closed, I bought Sandy a lot of seeds for his birthday – and they are thriving.
We can sit out in the garden in the evenings and at lunchtime. I greatly miss social interaction. I really enjoy seeing my work colleagues and interacting with them. I find debate and discussion very stimulating and creative.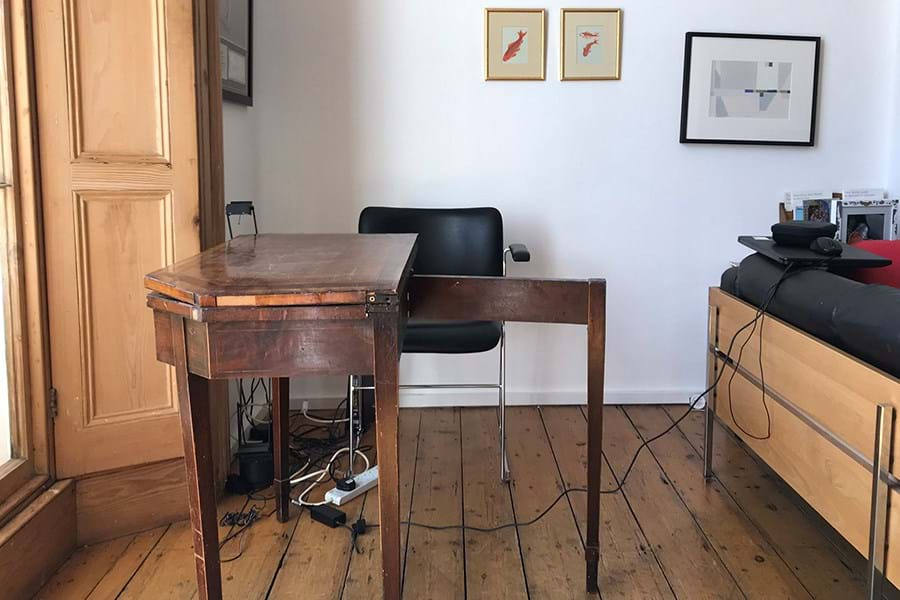 My Granny's card table – now my desk
How has lockdown changed your habits or routines at home?
We fell into a regular routine immediately. I socially isolated about 10 days before it was recommended because I'd been in contact with my son, who had distinct COVID-19 symptoms, but I stayed well. Sandy joined when it became official practice. I go for a walk on the Heath or cycle through the city every morning. I usually leave the house by 6am and am back before 8am. I'm settled at my desk by 9am.
Sandy's day starts and finishes later. We break for lunch and usually take an hour off then. We've done a lot of tidying up, which is good. I have resumed reading a lot, which in recent years had been displaced by screen watching.
How is your sense of home affected by your neighbours or those living nearby?
I get shopping for my elderly neighbour and chat to her often, which is good for her and me. The house next door is divided into flats where a heroic young woman lives on her own with three kids under 10 in a two-bed flat with no outside space. My heart goes out to her and I keep an eye on her oldest boy, who sometimes goes up and down the street on his bike or scooter.
Share your experience
Take part as we document home life during the coronavirus pandemic
Donate now
Support us to continue vital collecting and programming to explore what home means now
Keep up to date with all the latest from the Museum
Sign up to our monthly enewsletter for news and stories