Experience
Trying not to love my present home
30/04/2020
My home is almost sold. It is a Victorian end terrace in Louth, Lincolnshire. I live alone, a divorcee of 65.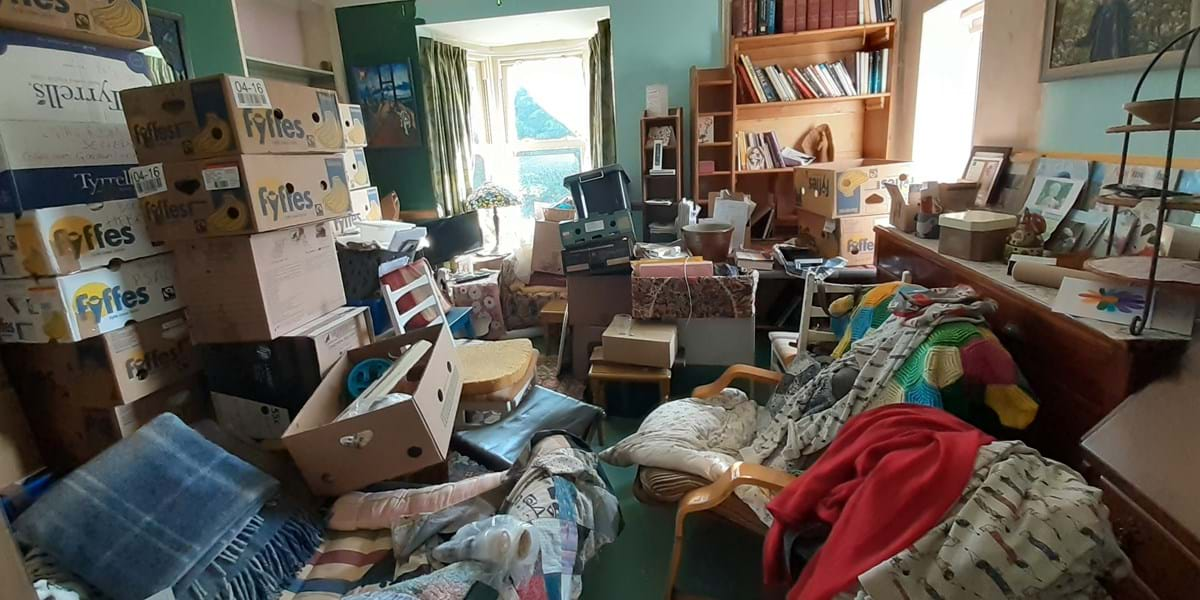 This is the living room, with boxes for moving. I don't use it except to watch TV for maybe an hour per day.
In what ways has the coronavirus pandemic changed the way you use your home?
It hasn't changed much, but I broke off packing. I'm glad I hadn't packed my sewing stuff away. Not many people have ever visited me here, so it is just as lonely as ever.
How do you feel about your home? How have these feelings changed?
As I'm about to move to a city, Lincoln, I've been trying not to love my present home, to detach myself. But all the fruit trees I planted are blossoming better than ever, so it will be a wrench to leave it.
It does feel like a safe haven, as it is elevated above the road. People passing on foot are on the other side of the road, they always were 'socially distant' in every sense.
How does staying at home affect your relationships?
Not at all.
What do you appreciate most about your home? What do you find frustrating?
I like its elevated position. But it is frustrating that I am still here, as I could have been using this time well to settle into my new home.
How has lockdown changed your habits or routines at home?
Not a lot. I got a new bike on 23 March, an e-bike, this has been great for exercise.
I have been sewing like mad. Previously I was not so productive, as the grief of divorce still affects me seven years on. I'm not gardening much here any more, only to keep it trim, because of moving soon.
How is your sense of home affected by your neighbours or those living nearby?
A really horrid neighbour moved away this week and a nice one moved in, and that helps a lot. It is now a very friendly little enclave that feels much safer in every way. I will miss this when I move to a new area.
Share your experience
Take part as we document home life during the coronavirus pandemic
Donate now
Support us to continue vital collecting and programming to explore what home means now
Keep up to date with all the latest from the Museum
Sign up to our monthly enewsletter for news and stories