Queeriosities Art + Makers Fair
Explore our art and makers fair led by LGBTQ+ creatives and businesses, including a panel discussion on queer domestic making and style.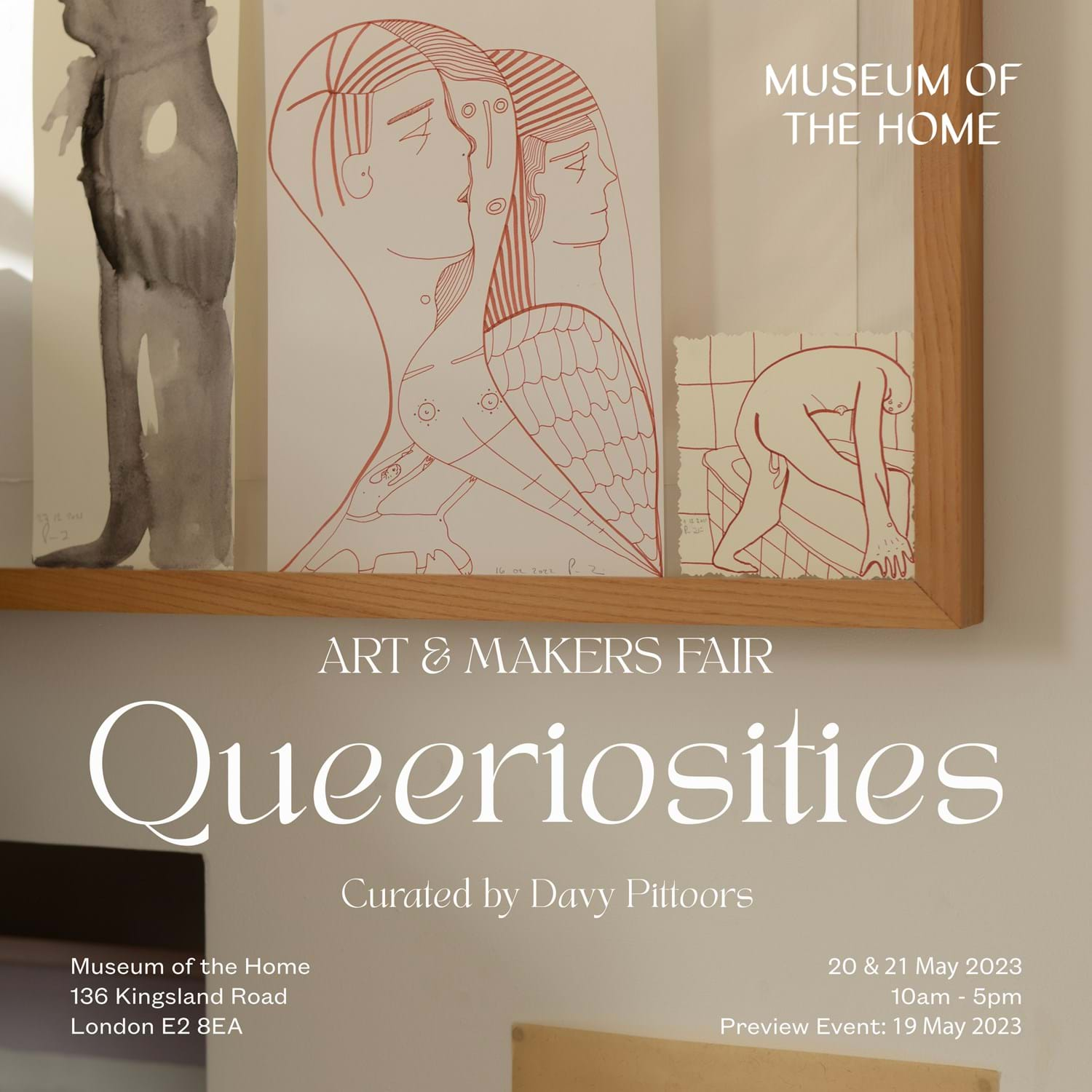 On Saturday 20 and Sunday 21 May 2023, Museum of the Home will host an art & makers fair led by LGBTQ+ creatives and businesses exploring visions and representations of domesticity, identity and home.  
Curated by Davy Pittoors, the fair will feature over 35 stall holders offering a selection of ceramics, paintings, mixed media, sculpture, textiles, books, gifts and homewares.
---
Before the official opening, join the early bird launch event on Friday 19 May (£5), and don't miss the special panel discussion at the Museum on Sunday 21 May (£7). 
Book for either, or both, of these events -  here - or via the links below.
---
Friday 19 May 2023 - 6.30pm | Early bird launch event
On Friday 19 May, the Museum will host a launch event, offering early bird access to the work on show and the opportunity to meet artists and makers ahead of the fair's official opening the next day. Get your tickets at the link below.
---
Sunday 21 May 2023 - 2pm to 3.30pm | Panel discussion
On Sunday 21 May, the Museum will host a panel discussion moderated by Pittoors exploring themes of Queer domestic making and style. Pittoors will be joined by Professor Matt Cook, author of Queer Domesticities, artist and architect Martha Summers, and writer, director, and cultural producer Andrei Nikolai Pamintuan. Get your tickets at the link below.
Find out more
About Davy Pittoors
Davy Pittoors is a visual creative, specialising in storytelling, art direction and curation. He mainly works with artists, makers and small businesses, with a focus on interiors, lifestyle, arts and culture.
About the panellists
Matt Cook
Matt Cook is a cultural historian specializing in the history of sexuality and the history of London in the nineteenth and twentieth centuries. He has a background in literary and cultural theory and strong interests in cross-disciplinary work and queer, public and community history. He is an editor of History Workshop Journal,  sits on the steering committee of the Birkbeck Institute of Gender and Sexuality (BIGS), and was director of the Raphael Samuel History Centre (2009 - 2018).In 2014 Matt was awarded a National Teaching Fellowship by the Higher Education Academy for his work at Birkbeck and in archive and community settings. He has advised on a number of community and oral history, archive and museum projects including for the Pink Singers,  the nightclub Duckie, Heritage England's 'Pride of Place' and the Pitt Rivers Museum's 'Beyond the Binary'. He worked with the National Trust on their Prejudice and Pride year (2017), and co-authored the associated LGBTQ guidebook. He appears regularly on radio, occasionally on TV, and has acted as a consultant on a number of series and documentaries.
---
Martha Summers
Martha Summers is an Architect, Artist, and Leatherworker living and working in London. Key themes in both her artistic and architectural practice include queer domesticity, self-fashioning and butch identity. She was the designer of the Barbican's 2022 exhibition "Out & About!" , showing 40 moments from the Bishopsgate Institute's archive of LGBTQ+ ephemera, and of the London LGBTQ+ Community Centre's Pop-Up space on the Southbank, completed in 2021 by a team of entirely LGBTQ+ tradespeople. Her artistic practice includes ongoing mending practices along with pieces that more explicitly address queer themes in a variety of media, such as TOOLbelt (2022), a lovingly handcrafted hybrid of a leather strap-on harness and a toolbelt.
---
Andrei Nikolai Pamintuan
(b. 1984) is a London-based researcher, cultural producer, and freelance arts and culture journalist. He received his MA in Applied Imagination at the University of the Arts London: Central Saint Martins in 2023. Born in the Philippines and raised in the United States, he has worked across disciplines, which include festival direction, curation, theater, and arts-based community development. Since 2012, he has collaborated with cultural organisations in Australia, Austria, Taiwan, and Southeast Asia as a cultural producer, facilitator, and observer.
He was founder and festival director of The Manila International Fringe Festival or Fringe Manila and managed Pineapple Lab, an artist-run creative hub that features contemporary performances and interdisciplinary arts by emerging creatives (2014 to 2020). During the Covid-19 Pandemic, Pamintuan continued to work in the arts and cultural sector – while taking on a new barista role for a local coffee shop. During this time, he produced and co-presented a digital talk series and podcast called Leave Yourself Outside.
Pamintuan is interested in LGBTQIA+ artistic expressions and representation in the creative and cultural sectors. His work involves providing a platform for marginalised voices and exploring how creativity plays a role in capacity building and community development. He recently completed a stint at Monocle Radio as a researcher for its three live news programs The Globalist, The Briefing, and The Daily as well as creating feature packages for Monocle on Design. In 2022, he co-wrote his first television series for Amazon Prime entitled Comedy Island.
Date
Saturday 20 May to Sunday 21 May
Time
10am-5pm
Cost
Free
Location
Museum of the Home