Entertainment
Just a few centuries ago, leisure was a luxury reserved only for the most privileged in society. Following a boom in commerce in the 1700s, however, more people found themselves with time and money to spend.
Ever since, countless games and devices have been invented to keep us entertained, many of which have significantly changed the way we live and interact with each other at home and beyond.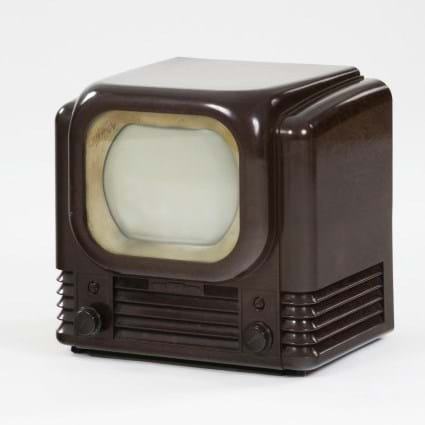 Bush TV22
An icon of Bakelite design, the TV22 provided a stark contrast to the large wooden televisions of the time.
It was a cheaper model aimed at those who could not afford the more traditional style televisions and sold in large numbers.
In 1949, the UK's second television transmitter opened in Sutton Coldfield. The TV22 was the first British-produced television that could tune into either the London or Midlands transmitters.
Bush TV22. Bush Radio Ltd., about 1950. Bakelite
---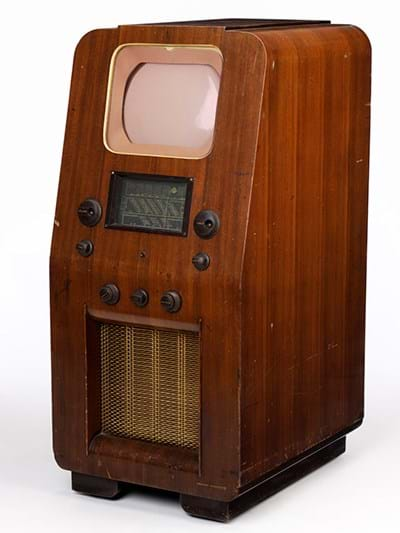 Marconiphone 709
There were only around 20,000 television sets in Britain before the Second World War. TV broadcasting ceased at the outbreak of war.
Released just before the war, the Marconiphone 709 sold very poorly and only a few examples exist today.
Mr and Mrs Hooper bought this model in 1940 at a bargain price. They used it just for its radio until television broadcasting began again in 1946.
Marconiphone 709, Marconiphone Company Ltd, about 1939
---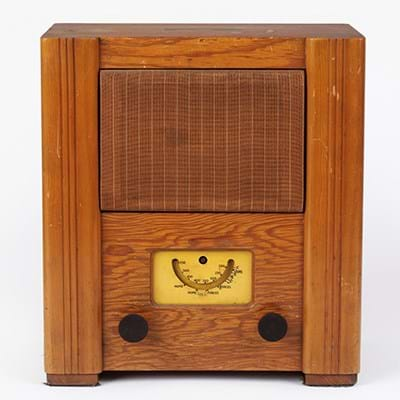 Utility set
During the second world war the government restricted radio production as components were needed for military equipment.
However, the government also saw radio as vital to keeping the home front entertained and informed during the war, so they permitted the manufacture of two radio designs. These could both be made from cheap and basic materials.
This AC set was more popular than the battery powered version, selling 175,000 units in its first year of production.
Wartime civilian receiver 'Utility Set'. Murphy Radio Ltd., about 1944
---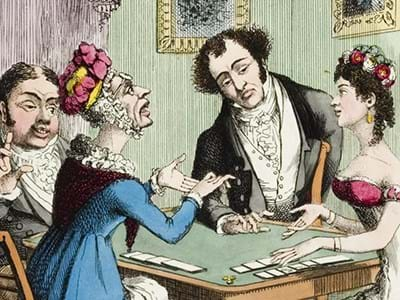 Playing Whist
Whist is a card game played by four people in pairs.
In 1743 Edmond Hoyle published a short leaflet on the game. He helped shift the perception of card playing from a gambler's pursuit to a respectable hobby of skill and logic.
This print depicts the aftermath of a 'rub' (the best of three games).
Tempers seem to be rising and the woman on the left looks like she may have lost. She sits on top of a copy of Hoyle's guide. It was clearly of not much use this time.
Whist Plate. 1 – A Rub by George Humphrey, 1822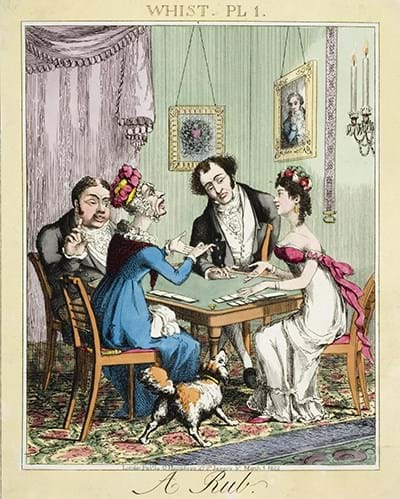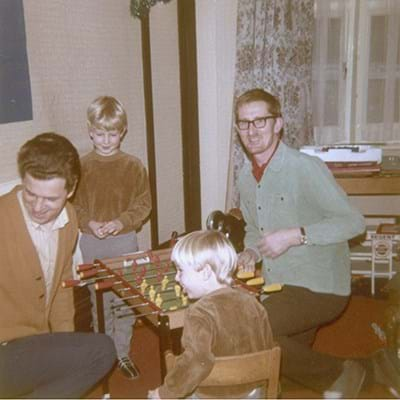 By kind permission of Madeline Macdonald
In the playroom
Here Robin is playing on a miniature table football set with his two sons, David and Joshua, and family friend Douglas.
Robin and Madeline Macdonald had a room in their house dedicated to toys and games for the whole family.
From billiards to ping pong, various table games have been invented that take an outdoor sport and make it playable in the home.
In the playroom. Madeline Macdonald, 1969. From our Documenting Homes collection
---