Real Rooms
There are many stories and voices missing from our Rooms Through Time. We are working with our visitors and communities to understand what the rooms could look like if we were to rethink who they are about.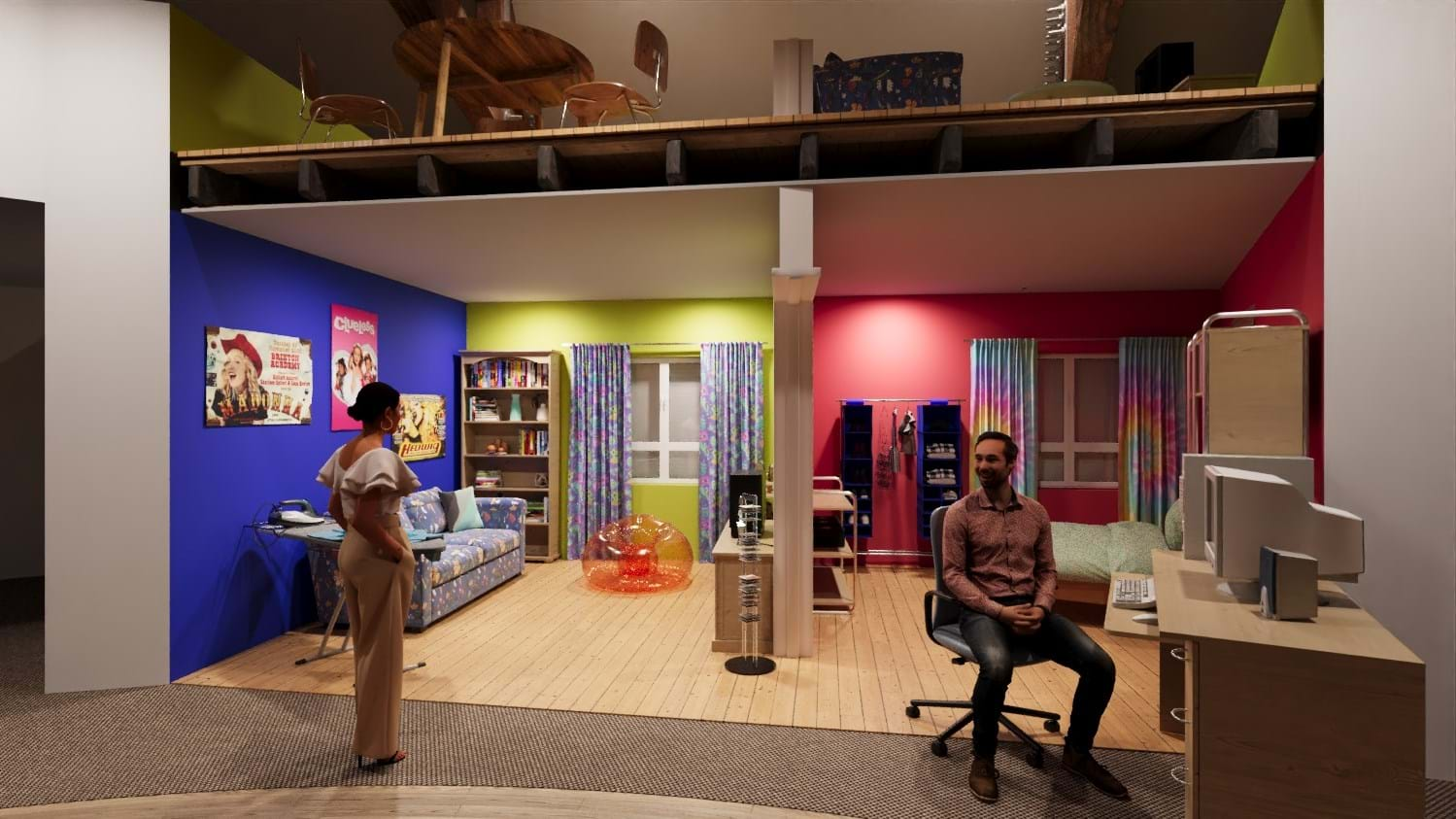 Real stories
After a 3 year closure, the Museum reopened in 2021 as Museum of the Home – a place to reveal and rethink how we live, in order to live better together. The Museum's interpretation focuses on diverse personal stories that create a relatable visitor experience for all.
Our Home Galleries embody this new approach with displays that are representative of many of our local communities and aim to explore the innumerable different ways in which we make our lives in our homes. 
During this project, while the Rooms Through Time received new interpretation that helped bring the rooms to life for visitors, the curatorial team were restricted in the stories they could tell by both the architecture of the sets and the makeup of the collections, which predominantly represent the white middle classes' households.
Therefore, not only do these displays jar with the far more diverse Home Galleries below, they no longer fulfil our aims as an organisation, nor represent the complex histories of migration and identity that have shaped Britain for hundreds of years.
The rooms
The new rooms will include a Jewish tenement from 1911, an Irish couple's house in the 1950s, LGBTQ+ renters sharing an ex-council home in the 2000s, a British-Vietnamese contemporary home, and The Future Room which explores real homes amid challenges such as climate change and technological advances. We will also be expanding our beloved 1870s Parlour and Front Room in 1976 to become more interactive.
As the project develops, more information on the rooms and how you can be involved will be revealed. Follow us on Instagram, Facebook and Twitter/X (@museumofthehome) to keep up to date.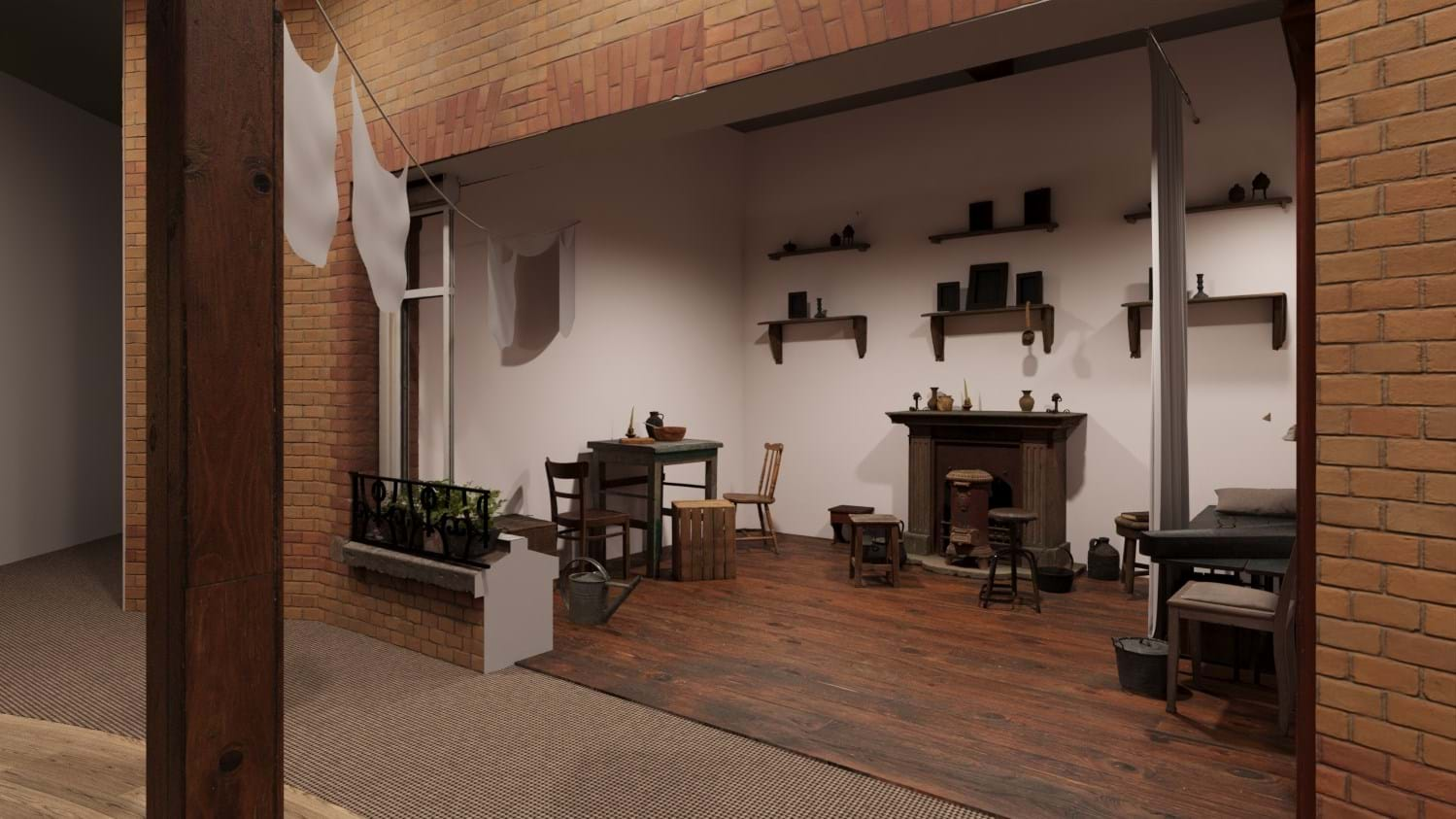 Jewish Tenement Flat mockup for Museum of the Home Real Rooms project, Fumo Studio
About the project
The Real Rooms project is tackling this imbalance by introducing a far more diverse array of narratives using co-creative and co-curatorial methods to let the communities we are representing inform and shape how their histories are being told.
Personal stories are our lifeblood
The new period rooms will centre on personal stories, and will take inspiration from oral histories and the lived experience of the communities they represent.
Everyone has an idea of what home means to them
The displays will be able to tell a far wider range of stories and experiences of home than we have ever previously attempted.
Design is important, but it has to be lived
The design and architecture on display in these rooms will always serve the exploration of the lived experience first and foremost. Moreover, these rooms will have a properly 'lived-in' feel, showing how people really live as opposed to ideal room sets.
Everyone can learn something here
We are not only telling new and more histories, we are also diversifying the way we tell these stories. Child-focused interpretation and an emphasis on interactive and experiential history will ensure that all audiences will be able to discover something new.
Our East London location inspires us
Many of the stories we are telling with the new rooms will be hyper-local, exploring the diverse communities that have called the area home over the centuries.
Home is constantly evolving and so are we
The new rooms will be designed with flexibility in mind, to enable new stories to be told whenever needed. The Room of the Future will also explore how our homes may continue to evolve. 
Our visitors feel at home
By drastically increasing the diversity of histories on display, we hope that all visitors will find something they identify with their feelings of home. We will domesticate the visitor spaces, making them more inviting and making visitors more comfortable.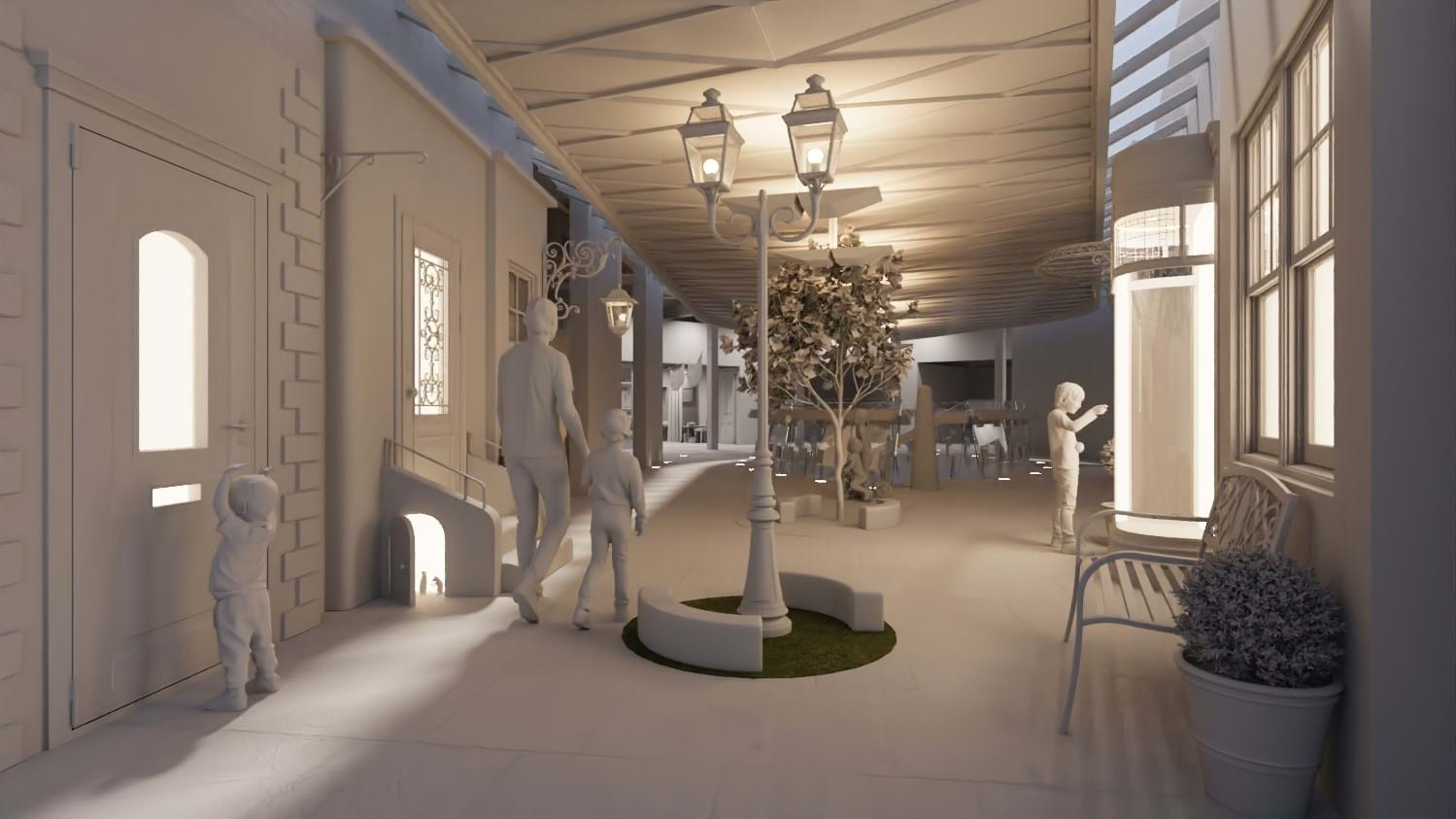 Entrance Streetscape, Fumo Studio
---
Community Authors
In 2021 we launched the 'Room to Rethink', a space for visitors to reflect on the Rooms Through Time, and tell us what they would like to see happen to the displays. This prompted us to recruit the Community Authors, a group of eight people with a diverse array of professions and backgrounds, to both advise and play an active role in re-shaping the Rooms Through Time.
The resulting Real Rooms Project comes from extensive work with the Community Authors, as well as continual outreach and engagement with visitors and our local communities. 
The Community Author's purpose is to be a partner with the Museum, to share ideas, develop, programme, produce or suggest creative programming to challenge the ways we work to ensure that the Museum of the Home is representative and inclusive. 
Julia Thanh
Julia is a born and raised British Vietnamese (east) Londoner and has also lived in Senegal and Vietnam. She has worked in International Education for 9 years and is happiest when supporting people to fulfil their potential. Outside of work, Julia is involved in bringing and connecting communities together as Founder of Vietnamese Londoners, Advisor to 2-3 Degrees (Personal Development organisation for young people) and as a Community Author at the Museum of the Home. 
"I became a Community Author with the Museum of the Home in September 2021 where I have attended monthly meetings with other Community Authors and occasional external meetings to discuss on how best to increase more visitor awareness and inclusivity within the museum via the Rooms through Time. Most meetings have involved an artist of the museum to learn more about the rationale behind their projects and to aid them in brainstorming what sort of outreach would work best within east London.  
I'm most excited about seeing the future projects come to life with the ideas that the Community Authors as a collective have discussed within these meetings. It will be incredible to look back and see how this has positively shaped the museum through more visitors within the local community. It will be good to see the communities of Hackney somewhat reflected within the museum which will hopefully in turn inspire the community and younger generation".
Naima Hassan
Naima Hassan is a researcher who works across shifting field sites, museums, and archives. Her work is often in dialogue with critical anthropology, curatorial practice, material culture and ecology. With an ongoing research focus on ethnographic collections formed in Italian Somaliland, she is interested in the dispersal of ethnographic collections and object/persons mobilities within Europe's present visa-border regime. She is currently working on projects in the UK, Angola, Italy, and Slovenia.
"I have been a member of the Community Authors collective since September 2021. As a researcher working closely on colonial collections, engaging critical questions about the legacy of Robert Geffrye, and ongoing efforts to contextualise his statue on the grounds of the museum, has been particularly important to me. The constellation of different voices which make up the Community Authors collective, comprising researchers, museum practitioners, local residents and community activists has meant that we have dynamically explored local and migrant histories, how the museum can employ polyvocality, and ideas for community engagement for the Rooms Through Time redevelopment project.
Our monthly gatherings have provided an opportunity to consult on and discuss critical issues and upcoming programmes with invited guests, artists, and staff. This September, Community Authors were invited to present research explorations or ideas around objects which could tell migration stories in the period rooms. My presentation titled, 'Activating Memory through the Senses: The Somali Dabqaad (Incense)' explored the potential role of using scents to activate visitor's sensorial memories. I explored the Somali practices of incense burning in the home, and distributed frankincense during the presentation to introduce a conversation about migrant practices of homemaking which until recently, were not often represented within the museum. I am excited by ongoing efforts within the museum to diverse its collections, and to drive thinking around international collaboration and global practices of homemaking".
Drucilla Burrell
Drucilla Burrell is a visual artist, contemporary dandy, and creator of Queer fantasia. She's also an Art Director with the Adobe Studio team. Her photographic practice is rooted in the study of Classical techniques and their implementation and dissemination via digital technology. Her most recent commission for The National Gallery playfully re-imagining the power dynamics presented in traditional portraiture using contemporary digital methods. 
"I'm extremely excited to be involved in the project as I adore helping to give previously hidden stories the platforms they deserve!"
---
Real Rooms is made possible with The National Lottery Heritage Fund and the DCMS/Wolfson Museums and Galleries Improvement Fund.
With your help we can use our collections and programmes to reveal and rethink the ways we live, in order to live better together.