No Place Like Home (A Vietnamese Exhibition) Part II
Wednesday 19 April - Tuesday 11 July 2023 | Free - Branson Coates
---
No Place Like Home is co-curated and led by KV Duong and Hoa Dung Clerget. The free contemporary exhibition features a group of Vietnamese diasporic artists presenting works on the theme of Home through the Vietnamese cultural lens, with "emphases on belonging, community, conversation, and nostalgia" (FAD Magazine)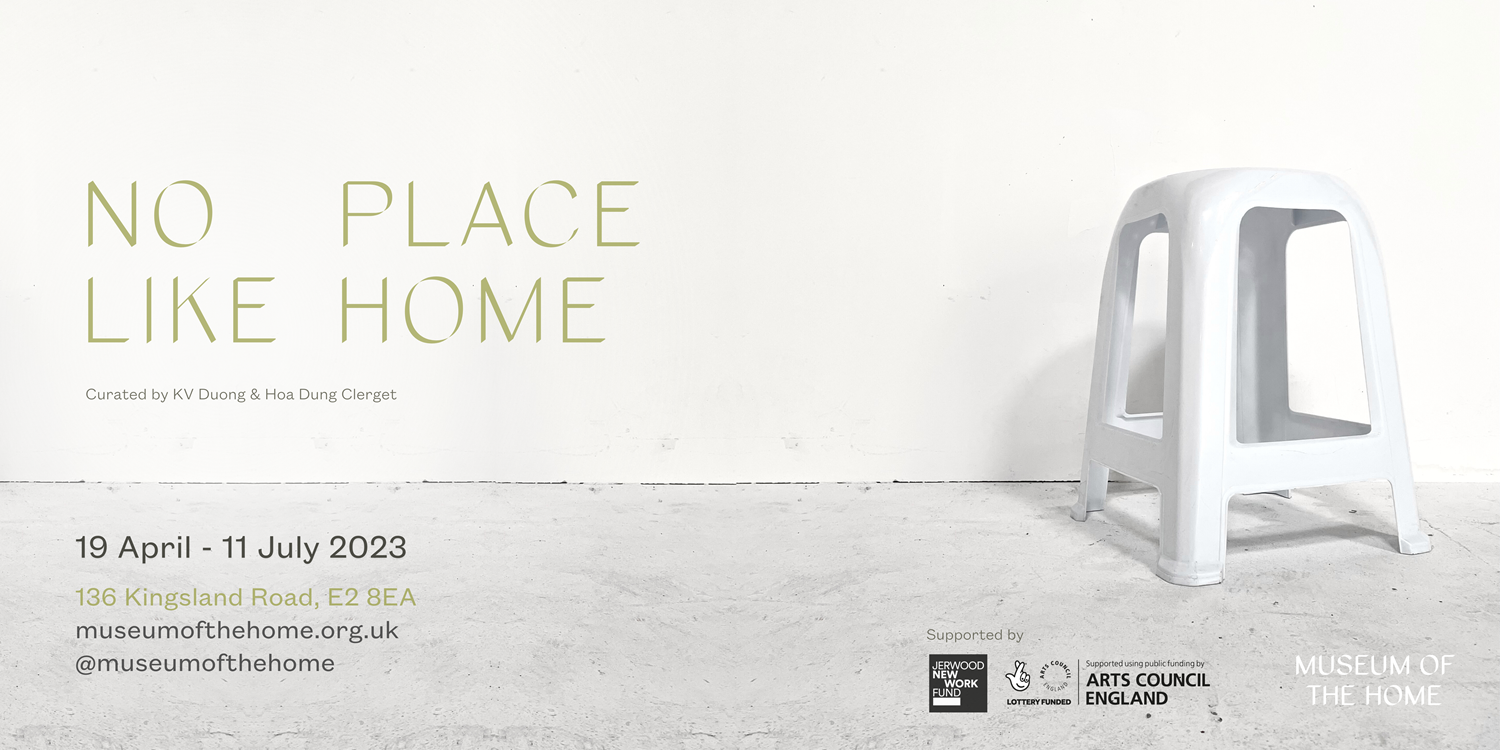 Located in the heart of the Vietnamese community on Kingsland Road, Museum of the Home is proud to commission a new contemporary art exhibition, No Place Like Home (A Vietnamese Exhibition) Part II. Co-curated and led by KV Duong and Hoa Dung Clerget, the collaborative exhibition features a group of Vietnamese diasporic artists presenting works about the theme of home through the Vietnamese cultural lens. 
Immigrant family meals are important moments of connection and cultural transmission. Traditional foods are deeply intertwined with notions of memory, identity, and belonging - both in the places where the parents have settled and on a transnational scale as a reminder of Vietnam.
"Taking food together has long played a part in the social transmission of culture. For diaspora populations, food is a signifier of traditions, places, languages and contexts that live in memory. No Place Like Home brings this all together in a way that is moving, thoughtful and uplifting, and I can't wait to hear what our audiences say."
- Sonia Solicari, Director of Museum of the Home
Visitors are greeted by a striking urban landscape installation constructed from Vietnamese plastic stools, highlighting the psychogeography of migrant populations. The main room showcases object-based works on a low white table, inviting viewers to sit on bamboo carpets to engage with the works.
The fluid, curvilinear table shape intentionally breaks from the traditional administrative and patriarchal table, fostering dynamic interaction with the objects and each other. The table facilitates the transmission of knowledge, experiences, and self-gifts, for artistic voices of marginalised second-gen immigrants.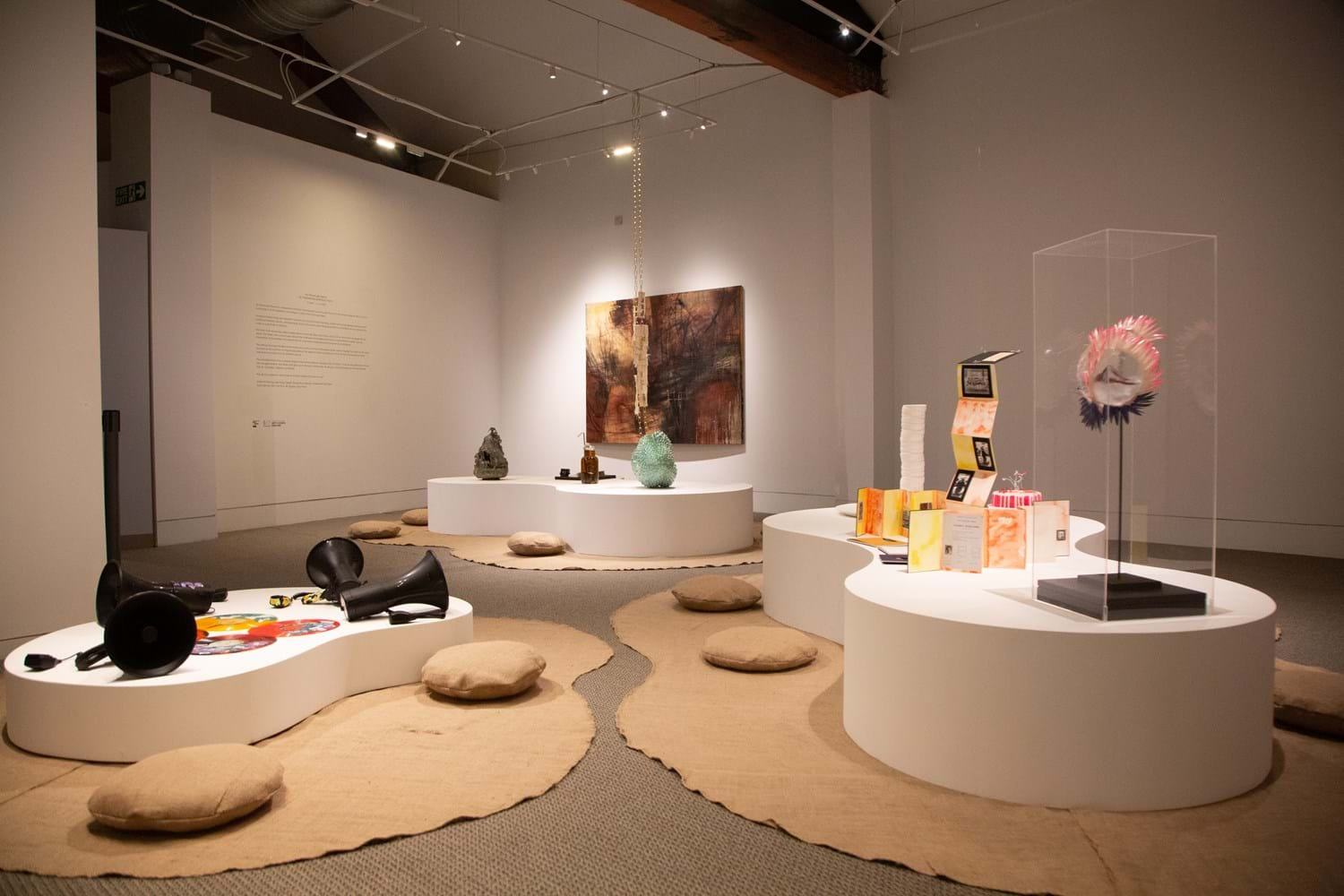 "The city may be open, but it's still hard work maintaining core cultures and traditions while adopting new ones. The result is almost always something new. Exhibits like this provide opportunities to examine that process."
About the artists/curators
KV Duong
KV Duong (b. 1980 Ho Chi Minh, Vietnam) is a London-based artist who examines the complexities of the Vietnamese queer identity through painting, performance, sculpture, and installation. Duong grew up in Canada to Vietnamese Chinese parents displaced by the Vietnam War. Duong is a self-taught artist with a Masters in Structural Engineering. He presented his first institutional solo exhibition at the Migration Museum in 2022.
Hoa Dung Clerget
Hoa Dung Clerget (b. 1985, France) lives and works in the UK. Clerget holds a Master in Painting from Royal College of Art. Clerget's practice is centred on the artisanal production of objects that take on a narrative dimension on the themes of the domestic and displacement. Her works affirm their materiality through gestures borrowed from everyday life, the ones of the women in her family and community.
Duong Thuy Nguyen
Duong Thuy Nguyen (b. 1991 Hanoi, Vietnam) is a London-based artist and writer. She is currently studying under a scholarship in Master of Fine Art and works as a Changemaker at Central Saint Martins. Exploring the intersections between contemporary art and social responsibility, Duong works with practice-based research focuses on reflecting social cohesion and community identity. She is co-founder of the Southeast Asian artist collective An.OtherAsian.
Cường Minh Bá Phạm
Cường Minh Bá Phạm (b. 1988 London, UK) works between / in / nearby / at the intersections of sound, community, and archives. He is interested in learning (and unlearning) our understandings of history, community, movement, family, sound, language, memory, and how they can inform, challenge, or be influenced by power, knowledge, and / or subjectivity. Phạm holds a Master's in Southeast Asia studies at SOAS. He is the co-founder of An Viet Archives Steering Committee.
Carô Gervay
Carô Gervay (b.1986 Paris, France) explores photography as a performative process that generates new spaces of reflection and potential for critical action. Through 'drawing with light' and 'appearing acts', she creates experiences where imagination and memory are in play. Gervay is interested in collectively reframing and responding to the needs and aspirations of our diaspora communities, whilst challenging the norms of how we create with photography. She is co-director of the Gate Darkroom.
Minh Lan Tran
Minh Lan Tran (b. 1997, Hong Kong) lives and works in London. She is currently completing an MA in Painting at The Royal College of Art. Tran's practice builds on her own writing and identity-based research in calligraphy. Drawing on textual elements, she creates works on canvas that blend writing and paint in an iterative process of reflection and integration. Skin-like and multi-layered, Tran's compositions evolve, respond, and change through her own bodily actions.
AP Nguyen
AP Nguyen (b. 1999 Hanoi, Vietnam) is a Vietnamese multidisciplinary artist working in the mediums of ceramic, sculpture, and video. Her practice is as equally driven by material and process as it is by the interrogation of images, aesthetics, and the semiotics of tourism. Interpreting the psychology of travel and movement in a post-war context, she explores the potential for world-building and myth-making in order to question clichés and learnt narratives. She currently lives and works in London.
Koa Pham
Koa Pham (b. 1993 Ho Chi Minh, Vietnam) is an artist who is involved in different mediums such as drawing, sculpture, and design. His work prominently investigates the relationship between objects, humans, and spaces, with an emphasis on how objects could put an agency on humans and influence their decision-making. Pham holds a BA and MA in Industrial Design at Central Saint Martins.
---
This exhibition features a range of events including workshops, a panel discussion, performances, and food sharing. It is supported by the Jerwood Arts New Work Fund and the Arts Council of England National Lottery Project Grant.
No Place Like Home Part II is part of the ESEA Programme at Museum of the Home. The ESEA programme is generously funded by the Lien Viet fund by Islington and Shoreditch Housing Association.